Things You'll Need
Beret pattern

Paper

Marker

Scissors

Half a yard of felt

Sewing machine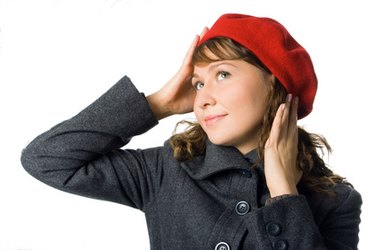 Using felt to make a beret is a relatively recent innovation. The beret, which originated in France, was initially made with wool. In the 1950s, felt started being substituted for the expensive, delicate pure wool. You can make your own beret using felt, without any millinery knowledge or experience. You will need a pattern to work off of, but the design is basic and can be found in craft stores and online.
Step 1
Find a beret pattern and adjust it for the size you need (see References). Some patterns are one size fits all. Cut the beret pattern with your scissors.
Step 2
Lay the pattern on top of the felt and trace the pattern onto the fabric with a marker. Cut out the felt according to your pattern pieces. You should have two pieces. The front piece is a full circle. The back piece is a broken circle with a hole in the middle.
Step 3
Sew the ends of the back piece together with a sewing machine. You will end up with a closed circle with a hole in the middle. The circle will not lay flat once it is sewn.
Step 4
Make a dart seam in the front piece to cause it to peak slightly. The pattern for the front piece circle will have a dart mark to show you where to sew it.
Step 5
Place the front piece on a table with the dart seam facing down. Lay the back piece on top of the complete circle. The seam closing the circle should be facing up.
Step 6
Sew the two pieces of felt together around the edge. Turn the beret right side out once it is sewn so all of the seams are on the inside.
Tip
Pin a brooch to the front of the beret for added flair.
Warning
Make sure the inner opening of the hollow circle fits your head before sewing the pieces together or you will have to rip out your stitches and start over.