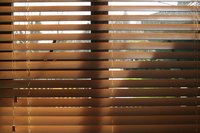 Window blinds are an economical and quick solution for window coverings. Top mount blinds are supported by brackets that install behind the top rail and are hidden better than side mounting brackets. The top brackets clip onto the upper side of the mini blind top rail, and release the hold as easily. All necessary hardware to hang a blind comes with the top mounts for quick installation.
Things You'll Need
Power drill
Drill bit set
Phillips screwdriver
Pencil
Clip on a top mount directly over the slot for the cord lock on the top rail of the window blind. Clip another mount on two inches from the opposite end of the top rail. Clip on additional top mounts between the two ends for wider mini blinds. Space the additional mounts evenly between the two end mounts.
Hold the top rail of the blind against the top of the inner window frame with the front edge flush against the outside edge of the frame. Make a pencil mark on the frame at both sides of all top mounts.
Pull the mounts off the window blinds. Hold a mounting bracket in place against the upper window casing on the pencil marked location and draw pencil marks through the screw holes. Mark the screw holes at all bracket locations.
Select a drill bit with a smaller diameter than the bracket mounting screws and secure it in the chuck of a power drill. Drill pilot holes at all screw hole pencil marks.
Hold a mounting bracket in place and insert the mounting screws. Tighten the screws with a Phillips screwdriver. Secure all brackets for the window blind as such.
Snap the valance clips onto the top rail about an inch from both ends.
Hold the front edge of the top rail higher than the back edge and insert the front edge into the hooks on the front sides of the mounting brackets. Rock the back edge of the top rail up into the back of the brackets until it snaps into a locked position.
Slide the valance slat, or slats onto the clips from the outside of one clip and through the inside of the other. Position the valance slats evenly across the front of the blinds.