Things You'll Need
Metal measuring tape

Paper and pencil

Steam iron

Scissors

Pins

Chopstick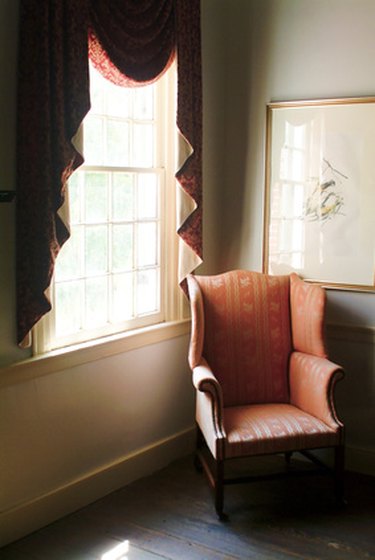 Lined swag-and-valance curtains give a finished look to a window. They are a three-piece set. The swags, sometimes called "cascades," are a triangular, gathered curtain; the valance is a rectangular piece centered between the left and right swags. Valances let the light in the window because they are shorter than the swags. The lining can be from the same fabric, contrasting color, or use a heavy material to block out the light.
Step 1
Measure the height and width of the window and write them on a piece of paper. Draw a diagram of the swags and valance, then write the measurements for height and width on the paper. Valances should not be more than a quarter of the window's length, according to Decsign Co., and the cascades may be anywhere from a third to the full length of the window, depending on your preference. Add 2 inches for the rod pocket and 1/2 inch for seam allowances.
Step 2
Buy the same amount of lining fabric that you buy for the swags and valances. Machine wash and dry both the lining and the fabric. Press with a steam iron.
Step 3
Cut the fabric to the desired size. Cut the lining the same size as the fabric.
Step 4
Lay the lining on top of the fabric with the right sides together. Pin both pieces together. Sew together with a 1/2-inch seam allowance. Always back stitch two stitches to lock stitches in place. Start sewing from the center of the top of the swags sewing all around the swag and stopping 3 inches from your starting point.
Step 5
Press the seam to one side. Trim the tip of each corner on an angle to 1/4 inch, then turn the swag inside out through the 3-inch opening. Use a chopstick or blunt end of scissors to push out the corners. Press the swag again.
Step 6
Turn over the top 2 inches for the rod pocket on both the swag and the valance. Pin, then sew with a straight stitch, or use a decorative stitch to sew the rod pocket in place.
Tip
Take the measurements with you to the fabric store, the staff can help you calculate the amount of fabric to buy. Read the laundry instructions on the bolt of fabric before buying. Decide if you want the lining material to hide the light
Warning
Buy extra fabric and lining material in case of a calculation error.