Things You'll Need
Label sheets

Printer

Computer

Word processing program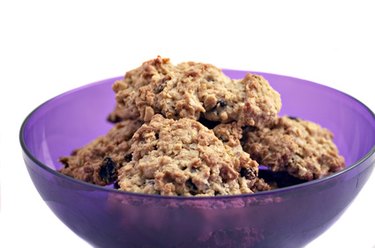 If you like to do a lot of cooking or baking, it may be a good idea to include an ingredient label on the packaging. This will help people with food allergies to avoid foods that may cause an uncomfortable or even fatal reaction. Some people are allergic to nuts, milk, wheat and other common baking ingredients. You can easily print out your own ingredient labels using Microsoft Word or another word processing program.
Step 1
Start the word processing program. For the sake of example, Microsoft Word is used since it is a very common program, but you can use another program, such as Apple's Pages or WordPerfect.
Step 2
Find the labels settings. In Word, click the "mailings" group and then "labels." In the resulting labels dialog box, click "options" to set which size of label you are using. Make your selection from the pull-down menu. You may be able to choose from the vendor who supplies the labels and the product number of the label, usually found on the packaging.
Step 3
Change the print settings. In the print settings, choose whether you want a full page of the same label or want to print different things on each label. You can also choose to print one label instead of a whole sheet, depending on your project. If you are using Word, click "new document" to get to the next step.
Step 4
Fill in the ingredients. Fill out each label how you want them printed. Most word processing programs use a table for labels, so you can use the tab key to move between them.
Step 5
Print the labels. When you've added your ingredients and the labels are complete, you can choose "print" to send them to the printer. Just make sure you have inserted your label paper into the single sheet tray first.
Tip
You can purchase specialty labels from office supply stores or online stores that are decorative for special projects.