Things You'll Need
Branch

Saw

Spray paint

Pot

White glue

Foam piece

Dried moss

Hand shears

Hanging ornaments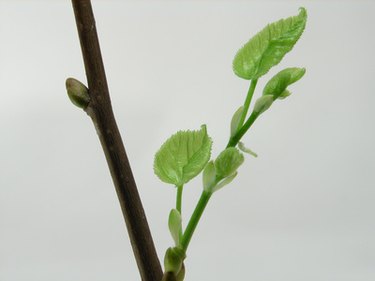 A twig tree makes a nice decoration for seasonal holidays like Halloween or Easter and they are easy to make. You can make any size tree you like in different shapes like full branched or crooked. Make a twig tree to display on a tabletop or in a corner of your room. Learn how to make this fun craft and customize it with the decorations that celebrate a special season or occasion.
Step 1
Look in your yard for a twig to use for your tree. Pick a twig that is at least two feet tall and has many small branches. It may be necessary to cut a branch from a tree.
Step 2
Remove all leaves and debris from the twig.
Step 3
Spray paint the tree in a well-ventilated area. Allow the paint to dry for a few minutes before you use it. You may wish to skip this step and leave the tree unpainted.
Step 4
Choose a pot to hold your twig tree. The pot should be about 1/3 the length of the twig.
Step 5
Pour glue into the bottom of the pot. Push the foam piece into the pot. Allow the glue to dry for a few minutes before proceeding.
Step 6
Poke the twig tree into the center of the foam.
Step 7
Arrange dried moss around the base of the tree, covering the foam. If you like string some glue on the foam first then attach the moss to it. Alternatively, you could add colored stones or rocks to anchor the branch down into the pot.
Step 8
Use small hand shears to trim some branches from the tree to make the twig look more like a tree.
Step 9
Hang ornaments or garland from the branches of the twig.