Cone-shaped grapevine trees will give your home a casually elegant look. Decorate the rustic-looking trees with traditional Christmas tree items, such as lights and ornaments, to create festive holiday home decor. A grapevine tree will inject your holiday decor scheme with an artistic flair and is a creative alternative to a traditional faux Christmas tree. Grapevine trees come in a variety of sizes and can be used to enhance desk and table tops, shelves, porches and entryways.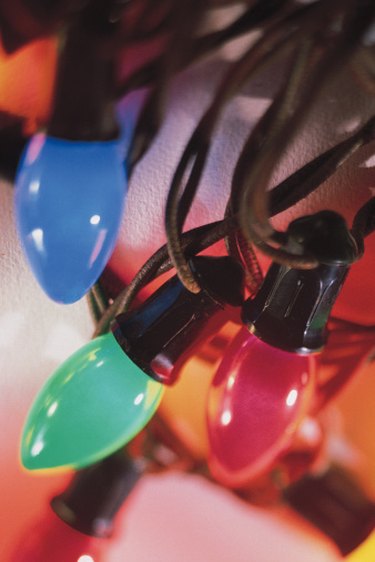 Things You'll Need
Ornaments And Hooks

Wire

Garland

Decor Pieces, Such As Wired Birds And Ribbons

Tree Topper With Conical-Shaped Base

String Of Lights

Grapevine Tree
Step 1
Decorate the grapevine tree with mini string lights. Choose multi-colored lights for a vibrant look or lights in one hue, such as blue, white or green, to complement a particular color scheme. Start at the bottom and wrap the lights around the tree in a circular fashion until you reach the top. Nestle the light string into the vines for a secure fit. Wrap a small piece of wire, such as an ornament hook, at the points where the string starts and stops to secure the ends into place.
Step 2
Wrap a tree garland around the tree, in between the string of lights. Use a garland made of faux pink or white feathers for a touch of glamour. Choose a traditional gold or silver tinsel garland to create a festive look. Secure the ends of the garland to the tree with small pieces of wire. .
Step 3
Accent the tree with ornaments and other decor pieces. Attach colorful birds with wired feet to the tree to create a nature-inspired look. Hang mini ball-shaped ornaments in silver and gold, using wire hooks. Slide decorative ribbons through the vines and tie them into decorative bows.
Step 4
Enhance the grapevine tree with a topper. Choose a small topper featuring a traditional conical-shaped base, which will fit securely over the top of the tree. Pick a shiny star, snowflake or angel-shaped topper for a classic style, a bird-shaped topper to complete a nature theme, or a snowman-inspired version to add a touch of whimsy.