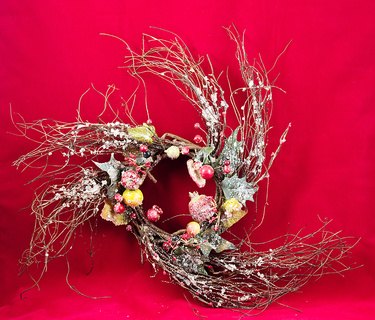 Grapevines are not only for growing grapes, the vines themselves can be used for a variety of craft projects. These pliable vines can be bent and woven, making them useful for making everything from wreaths to centerpieces. Many craft supply stores sell grapevines in pre-made shapes like spheres and wreaths which can be decorated in a variety of ways.
Wreath
Grapevine wreathes are simple, creative and customized crafts, according to the Crafters Love Crafts website. Using some grapevine branches, a hot glue gun, floral wire and decorative items, a crafter can make a wreath suited to any season, home décor or special event. Soaking grapevines in water overnight can help make them more pliable for weaving together a wreath. Create a circle from a coil of grapevines which will be the same diameter as the completed wreath. Secure the circle with floral wire and weave the grapevine branches in and out of the circular base to thicken the wreath. Common decorative items for the grapevine wreaths include silk flowers, ribbon and buttons. Decorations may be attached using a hot glue gun.
Figurine
Grapevines can also be used for the base of figurine decorations, such as the angel craft suggested by the Crafttown website. Many craft stores sell undecorated figures made from grapevines. These can then be decorated to create attractive winter holiday angels. Cut pieces of grapevine and bend them into a semi-circle shape. Water-soaked grapevines bend more easily. Attach these grapevines to the back of the figurine using a hot glue gun. This will help create angel wings. Decorate the angel with tulle and glitter to create an angel's costume. Gluing together a small circle of grapevine can help create an angel's halo. Float the halo above the angel's head with a piece of floral wire; secure the floral wire to the angel with hot glue.
Birdbath
A grapevine wreath combined with a flower pot makes an interesting, rustic birdbath, according to the Disney's Family Fun website. Use three lengths of manila rope to create a tripod by knotting the ropes together at both ends. Nestle the grapevine wreath in the middle of the rope tripod. Place a shallow flower pot or saucer in the middle. Hang the structure from the tree and fill with water.
Centerpieces
Grapevine balls, commonly found at craft stores, create interesting centerpieces when combined with silk flowers and ribbon. Using hot glue, crafters can attach silk flowers and ribbon to a grapevine ball. Use as few or as many flowers as necessary to achieve the desired look. Placed in a basket or flower pot or set on top of a vase, the decorated grapevine ball creates a rustic centerpiece for the dining table.