Things You'll Need
Clothesline

Clothespins

Bath towel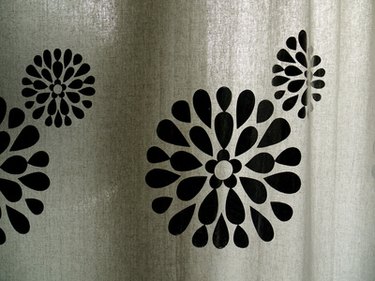 Whether you have a new shower curtain with fold wrinkles or an older curtain with other types of stubborn wrinkles, remove them effectively with a few simple steps. Because many shower curtains contain plastic or vinyl materials, remove the wrinkles carefully to avoid damaging the shower curtain. Select a wrinkle-removing technique that matches the curtain's materials and remove the wrinkles to create an attractive bathroom decor.
Step 1
Moisten a vinyl or plastic shower curtain lightly with water and hang the shower curtain from the clothesline. Fasten one end of the shower curtain to the clothesline with clothespins. Allow the shower curtain to hang straight down from the clothesline until it dries completely. The pull of gravity on the shower curtain, as well as direct sunlight, will help remove stubborn wrinkles.
Step 2
Place a plastic or fabric shower curtain into the dryer. Moisten a bath towel with water and add the bath towel to the dryer with the shower curtain. Set the dryer to a low heat and dry the shower curtain for up to 15 minutes. Remove the shower curtain immediately and shake it out gently. Hang the shower curtain back up on the rings immediately to prevent further wrinkling.
Step 3
Place the bottom of a vinyl shower curtain inside the bathtub to prevent water running down the curtain onto the bathroom floor. Set the water temperature to hot and direct the spray of shower water to the shower curtain. If you have a hand-held shower head, hold it in your hand and direct the water over the shower curtain. After warming the vinyl with the hot water for three to four minutes, turn the water off. Move the shower curtain to an outside clothesline if possible, to dry in the sun. If you cannot hang the shower curtain on a clothesline, stretch the shower curtain out along the curtain rod and allow it to dry there without wrinkles.