Things You'll Need
Dishpan

Dishwashing soap

Thick bath towel

Steam iron

Spray bottle (filled with water)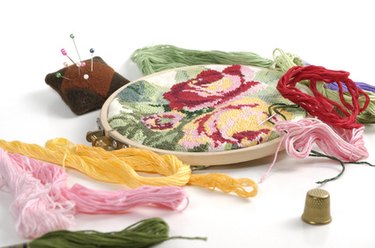 Many cross stitchers use Aida cloth for stitching intricate cross-stitch patterns. Aida cloth comes in a variety of different colors with blocks of vertical and horizontal threads making up the fabric. These blocks come in different thread "counts": Smaller numbers are larger blocks, and larger numbers are smaller blocks. Many cross stitchers prefer using 14-count Aida cloth for general cross-stitch projects. Sometimes Aida fabric comes out of a package with creases, or it becomes creased as you stitch on it. When this occurs, remove the crease from Aida cloth easily to ensure you have crisp and flat fabric.
New Aida Fabric
Step 1
Fill the dishpan approximately halfway with cold water. Add one to two squirts of dishwashing soap and swirl the water to make bubbles.
Step 2
Place the Aida cloth into the dishpan and push it beneath the surface of the water. Allow the Aida cloth to sit in the dishpan for approximately three minutes.
Step 3
Remove the Aida cloth from the dishpan and rinse it thoroughly under cold water to remove all soap residue.
Step 4
Spread out the bath towel and place the wet Aida cloth onto the bath towel. Roll the towel up with the Aida cloth inside to remove as much excess water as possible from the cloth.
Step 5
Unroll the towel and allow the Aida cloth to dry on the towel until it is almost dry.
Step 6
Set the iron to a low heat with steam, and iron the Aida cloth to remove any creases that remain in the fabric. Do not fold the Aida cloth when storing it, or you will create more creases.
Stitched Aida Fabric
Step 1
Lay out a bath towel and place the stitched Aida fabric upside-down onto the towel.
Step 2
Spray the surface of the cloth lightly with the spray bottle of water, concentrating the spray onto the areas where you have creases.
Step 3
Set the iron to a low heat with steam and iron the Aida cloth over the creased areas. Continue ironing until you remove all of the creases.
Step 4
Leave the damp Aida fabric on the towel until it dries.