Things You'll Need
Plastic spray bottle

Sponge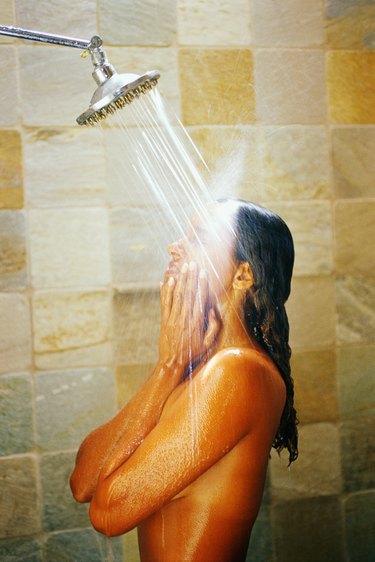 Hydrogen peroxide is a natural and less expensive alternative to chemical bathroom cleaners. The solution, which grocery stores and pharmacies sell at 3-percent strength, breaks down into water and oxygen, leaving no traces or noxious fumes. Hydrogen peroxide is an anti-fungal, anti-bacterial compound, making it an ideal cleaning solution for a shower stall. Use a plastic spray bottle to apply hydrogen peroxide to the shower evenly and efficiently.
Step 1
Uncap a bottle of hydrogen peroxide and pour it undiluted into a plastic squirt bottle.
Step 2
Adjust the squirt bottle nozzle to a fine mist setting and then spray the hydrogen peroxide to all shower surfaces. Let sit for 10 minutes.
Step 3
Scrub the shower stall with a sponge dampened in water.