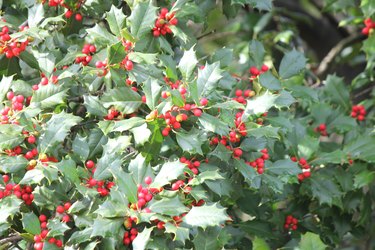 The state of Ohio blooms in lush flora during the spring and summer months, including many berry trees. Shades of greens, blues, reds, yellows and other striking colors dot the landscape of the Buckeye State, which encompasses USDA plant hardiness zones 5b through 6b.
Part of enjoying the great outdoors is recognizing your surroundings, including the types of trees in Ohio. There are several steps to identifying a berry tree or red berry bush. On your next nature excursion, you can use these tips and tricks for Ohio tree identification.
What Is a Red Berry Tree?
There are no species of trees known simply as the red berry tree. Instead, several types of trees grow red berries. Among them are the hackberry (Celtis occidentalist, zones 2-9), the red mulberry (Morus rubra, zones 4-9) and the downy serviceberry (Amelanchier arborea, zones 4-8). In addition, look for red fruit trees, especially the various varieties of apple trees that grow abundantly in Ohio.
While not native to Ohio, you might encounter other small red berry trees growing in the state, especially if you see them in a greenhouse, landscaped yard or other managed property. Some of the most popular are holly bushes (Ilex opaca, zones 5-10). Holly stays green year-round and even produces its red berries in the winter, giving the bleak white landscape a much-needed splash of festive color. In addition, look for chokeberry bushes (Aronia melanocarpa, zones 3-8), gooseberry shrubs (Ribes hirtellum, zones 4-6) and other redberry trees.
For general tree berry identification, several other varieties common in Ohio produce berries that may appear red if discolored. These include the sassafras (Sassafras albidum, zones 4-9), whose berries should be deep blue or black. Red stems on the berries are expected, though.
Red Berry Tree Identification
There are three main characteristics to look for when identifying red berry trees: the leaves, the shape and size of the plant itself and the berries. Since hackberry, red mulberry and downy serviceberry are the most common, these are the best ones to know.
Hackberry trees are most easily recognized by their bark, which is dark gray and knotty in texture. Its leaves are also unique: asymmetrical with curved, pointed tips. Depending on when you spot the hackberry, the berries may be red, purple or brown, as the color changes through the season. You may notice it growing in damp, swampy areas, as it loves that type of soil.
The red mulberry produces sweet, edible fruit suitable for humans and animals. The berries appear red or purple when ripe and are delicious in jams. To identify a red mulberry, look for dark green oval leaves. The same branch can produce different-shaped leaves; the tree has golden-brown bark and can grow up to 60 feet.
Other Types of Trees in Ohio
The downy serviceberry (also called the juneberry) is not native to Ohio but is common, especially in the eastern parts of the state. It also has gray bark, but its leaves are a darker green and turn bright red in autumn. White flowers in April and May precede the edible berries in June.
Ohio has multiple varieties of deciduous, conifer and invasive tree species. For deciduous trees, some families of trees to look for include the beech (Fagus grandifolia, zones 4-9), bean (Catalpa bignonioides, zones 6-10), birch (Betula papyrifera, zones 2-7) and elm (Ulmus americana, zones 4-9). For conifers, Ohio is home to pines (Pinus strobus, zones 3-8) and cypress trees (Taxodium distichum, zones 5-10).
Leaf shape and branch arrangement are two of the critical keys in tree identification. You can use a comprehensive guide to Ohio's trees to help you identify the species around you.