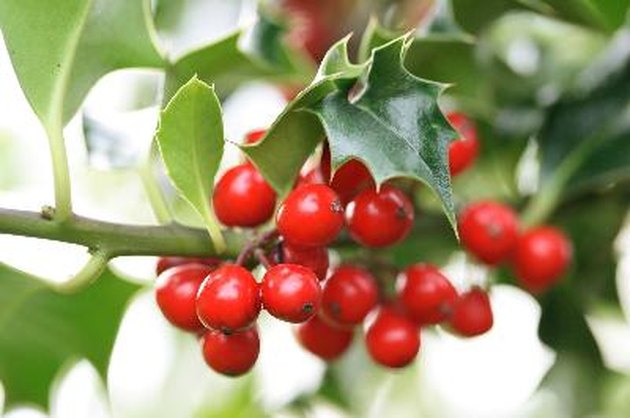 Throughout USDA plant hardiness zone 7, several species of trees grow that produce red berries. Some of these fruits are edible, while others are not, but in either case they provide some ornamental aspect to the tree. These zone 7 trees include native and non-native types, growing to different sizes and having other pleasing features besides their red berries.
Magnolias
The red seeds of the magnolia trees with an ability to handle USDA zone 7 conditions are oblong and develop in many cases inside pods that eventually open up and allow you to see them. Species in zone 7 include sweetbay magnolia, which grows between 30 and 60 feet high in this region and possesses semi-evergreen foliage. The large-leaved cucumber tree, saucer magnolia, southern magnolia and swamp magnolia all produce these red berries, which usually ripen during the fall. The flowers from which these seedpods develop are often spectacular in appearance, such as the 12-inch-wide, white flowers of the southern magnolia.
Dogwoods
Not all the dogwood trees suitable for USDA zone 7 produce red berries, but enough do to give you plenty of options. Chinese dogwood, Kousa dogwood and flowering dogwood all have red to pinkish-red berry-like fruits, which start to ripen in summer and last into the fall. Attractive to many kinds of birds, these berries often stay on the dogwoods into winter before becoming part of a bird's menu. Dogwood trees in zone 7 vary in height, from the Weaver's Weeping hybrid of Kousa dogwood at 8 feet to taller flowering dogwoods up to 30 feet tall. Dogwoods work in group plantings or as individual specimen trees in sun or partial shade.
Hollies
Holly berries are showy and potential food for birds. The holly types for USDA zone 7 include the native species American holly, a tree with evergreen, spiny leaves growing to 30 feet. Only the female trees turn out the red berries, which turn deep red by October and supply the tree with winter interest. Longstalk holly is a tree from China that attains heights of 30 feet. The leaves have wavy margins, are evergreen and contrast sharply with the red berries maturing on long stalks. Yaupon holly and English holly are two other holly trees for the zone with the red berries on their female specimens. The female trees require a male in proximity for pollinating their flowers.
Sumacs
Smooth sumac, staghorn sumac and flameleaf sumac all attain tree size within USDA zone 7 in their largest form, with none growing beyond 30 feet. They are deciduous but have great appeal in autumn when their foliage turns different colors, including orange, red and purple. The sumacs produce a cluster of red fruits, with the berries forming what appears to be an upright pyramid on the branches. Sumac grows in both sun and shade. Employ it along woodland edges, in naturalized areas or to mass in groups to cover banks.