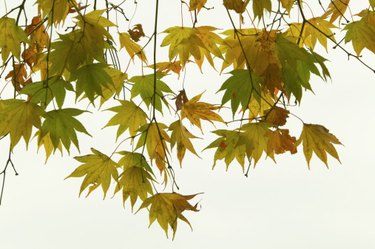 There are approximately 125 species of maple trees (Acer spp.). The majority of these species are Asian maple trees native to China and Japan, although some well-known species occur naturally in North America and Europe. Maple trees are deciduous, which means they shed their leaves in autumn, and they are prized for their stunning fall colors. While they belong to the same genus, there are differences between Chinese and Japanese maple trees.
Japanese maple trees (Acer palmatum, USDA plant hardiness zones 5-9) are a diverse subset of maple trees, with hundreds of cultivars on the market from which to choose. They vary greatly in size. Some Japanese maple cultivars may be just 8 feet tall, while others can grow to heights between 40 and 50 feet.
These trees feature layered, horizontal branches. The trunks of Japanese maple trees are often a gray color. They also vary in shape, as some grow in a rounded habit, and others have a weeping form.
Japanese maples exhibit great diversity when it comes to the shape of their leaves, as some cultivars have dissected foliage. In some Japanese maples, the leaves emerge green. In others, they start out a purplish-red color before maturing to green in the summer. While all Japanese maples are deciduous, their shades and the intensity of their fall colors also varies. For example, the leaves of the dissected 'Waterfall' cultivar turn a golden color in the fall, whereas those of the nondissected 'Bloodgood' cultivar are decidedly red.
A few maple trees that are native to China and Taiwan are commonly known as Chinese maples. In general, these trees are less common in the U.S. than Japanese maples, and there are fewer options from which to choose. If you want dissected leaves, Japanese maples are the way to go.
Chinese maple species include the oliver maple (Acer oliverianum, zones 7 to 9), which has heights between 15 and 30 feet. Its horizontal branches are similar to those of Japanese maple trees. Also commonly referred to as a Chinese maple is the five-lobe maple (Acer pentaphyllum, zones 7-9), which may also be up to 30 feet tall. So few specimens of the five-lobe maple remain that it is considered endangered.
Among the species of maples that are native to China is the shantung maple (Acer truncatum, zones 4 to 8), which is easier to find commercially than the species that are often called "Chinese maples." Also known as the purpleblow maple, the shantung maple tree is between 20 and 25 feet tall and grows in a rounded form. Its native range also encompasses parts of Korea.
Another stunning maple tree that is native to China is the paperbark maple (Acer griseum, zones 4 to 8). The distinguishing feature of this species is its exfoliating bark, which curls up and remains on the tree, adding interest to the landscape. It has heights between 20 and 30 feet. Paperbark maples are difficult to propagate, as most seeds they produce are not viable, and wood cuttings struggle to form roots.