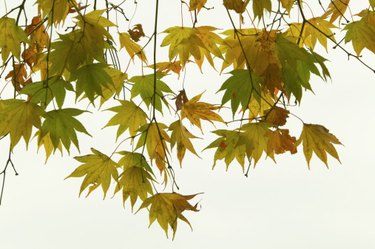 Maples native to Japan and China make suitable landscaping trees for certain regions of North America. These maples and their cultivars possess ornamental features such as colorful foliage that enhance their appearance.
Geography
The Japanese maple (Acer palmatum), which originates from Japan and China, grows in North America in U.S. Department of Agriculture plant hardiness zones 5 through 8. Maples hailing from China include the paperbark maple (Acer griseum) and the shantung maple (Acer truncatum), which grow in USDA zones 4 through 8.
Features
Among the cultivars of the Japanese maple are the Bloodgood, featuring red leaves, and the Shaina, a dwarf cultivar growing to only 6 feet. The main attraction of the paperback maple is its peeling, brown-red bark, while the shantung maple features colorful fall foliage, with the leaves changing to shades of red and orange.
Size and Use
The Japanese maple grows between 15 and 25 feet, making it work as a patio tree, specimen tree or species to plant in small groups in the landscape. Paperbark maple reaches heights of 30 feet and grows in partial shade, allowing its use as an understory tree. The shantung maple grows to 25 feet; landscapers use it in small yards and as a street tree.