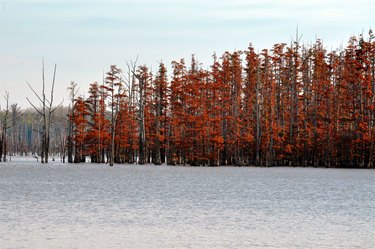 Certain kinds of trees with red berries in the fall grow in Indiana, and there are ways to figure out just what kind they are. The most common trees that grow naturally there are different species of ash, cedar, hemlock, cherry, buckeye, hickory, magnolia, maple, oak and several others. If you're in the state and see red berries in trees, how can you figure out what they are?
Indiana Tree Identification
Indiana falls into USDA plant hardiness zones 5 and 6, including growing zones 5b, 6a and 6b. You can identify trees by regions and the shape of their leaves, categorizing the leaves by smooth edges or lobes, jagged edges or "teeth," ones that resemble needles and compound leaves with smaller leaflets. For example, the black locust (Robinia pseudoacacia, zones 3-8) has compound leaves with seven to 17 leaflets set up alternately on the twigs.
The Indiana berries on these trees aren't red, though; they are brown or black and look like flat pods. The eastern redbud (Cercis canadensis var. texensis, zones 6-9) sounds like it might produce red berries, but it also only has flattened fruit pods. You'll like its bright pink flowers in the springtime, though, along with its pretty heart-shaped leaves.
Indiana Berries That Grow on Trees
The mountain ash (Sorbus decora, zones 2-6) is a tree that produces small red fruit. It tops off at around 30 feet, and it has compound leaves and five-petaled white flowers in the springtime followed by clusters of shiny red berries. These are about 3/8 inch in diameter and have one to two seeds apiece. Although animals and birds enjoy them, they taste acidic or bitter to humans in their raw form. You can make them into jellies, though.
Sumac (Rhus, zones 4-9) also grows in Indiana and is a medium-size deciduous (not evergreen) with numerous species. It also has compound leaves, and these are long and thin. It is usually a bush rather than a tree, as it doesn't usually grow past 20 feet in height. Its tiny red berries are only about 1/8 inch and are densely packed into bunches. You won't want to eat these either.
Poison sumac (Toxicodendron vernix, zones 3-8) is rare in Indiana. Those toxic plants produce light green and white berries rather than red.
More Berries From Trees and Bushes
Cherry trees (Prunus spp., zones 4-9) also grow in Indiana, though they are not necessarily classified as berries. They are actually a stone fruit. Still, they have a similar appearance, and certain varieties are delicious. They come in different sizes, including dwarf trees that you can grow in pots. A wild cherry tree (Prunus avium, zones 5-8) that grows Bing cherries has smooth, reddish bark and dark green, long leaves with serrated edges as well as deep red, sweet fruit.
You can also find bushes in Indiana that have red fruit, like winterberry (Ilex verticillate, zones 3-9). This native Indiana species grows in low-lying woods, stream banks and bogs and is part of the holly family. It has oval, smooth-edge leaves and clusters of medium-red berries. You can eat these but make sure that any berry you plan to eat is correctly identified first, as some may be poisonous.