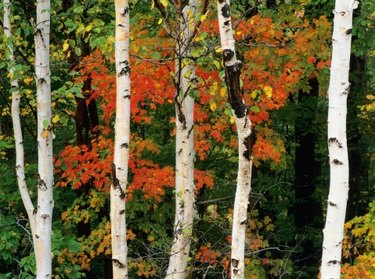 The white birch tree (Betula papyrifera), or paper birch, is a deciduous tree that is native to Alaska and northern Canada. Hardy in U.S. Department of Agriculture plant hardiness zones 2 to 7, the tree can be successfully grown in some parts of Colorado. However, there are some challenges you will face when growing paper birch trees in the state that need to be considered before adding this tree to your landscape.
White Birch Tree Growing Conditions
The white birch tree grows 50 to 70 feet tall. It has white papery bark that peels from the trunk to reveal orange-brown bark underneath. Black spots on the white bark are normal on mature trees. The tree grows quickly in good growing conditions and with proper care.
Paper birch trees grow in a variety of soil types, but they prefer rocky or sandy, well-drained, acidic soil. They need consistently moist soil to thrive. You will get the best foliage color when the trees grow in full sun, but trees will also grow in part shade, especially in areas with hot afternoon sun.
White Birch Trees in Colorado
Depending on your location in Colorado, your USDA zone is between 3 and 7, which is within the range that the white birch tree grows. However, many areas of Colorado get hot during the summer, and since the tree can get stressed when temperatures rise above 75 degrees Fahrenheit, this may not be ideal for the white birch. Make sure these trees have afternoon shade during the hot summer months.
Colorado soil conditions are also not always ideal for the white birch. The state does not have rich soil, and many areas have clay soil, which does not drain well and can cause problems for the white birch. In addition, the soil pH in Colorado tends to be high, which can cause chlorosis. The bronze birch borer is a common pest for the white birch tree in the state, and infestations can be fatal.
Amend the soil with organic material, sand or both to ensure adequate drainage before planting. Do a soil test and if necessary, add sulfur to the soil to help correct a high pH level and to make the soil more acidic. In addition, you will likely need to irrigate the trees, as Colorado does not get as much rainfall as other parts of the country, and the white birch is not drought tolerant.
Aspen Tree vs. Birch Tree
When comparing the aspen vs. the birch tree, you will notice that they have a very similar appearance. However, there are several differences. Aspen trees (Populus tremuloides, USDA zones 1 to 6), also called quaking aspen trees, grow 40 to 50 feet tall and have white or light gray bark with furrows and black spots on mature trees. However, unlike the birch, the bark of the aspen does not peel off.
Aspen trees are native to North America, and in Colorado, they are typically found at higher altitudes. Some parts of Colorado are too warm for the trees, and at lower elevations, aspen trees are prone to chlorosis.