Baseball team jerseys are at the core of every baseball team. While you can order custom made jerseys from any sports supply store, they will be expensive. Instead, consider saving the team some money and adding a touch of personality to the jerseys by designing and sewing your own baseball jerseys.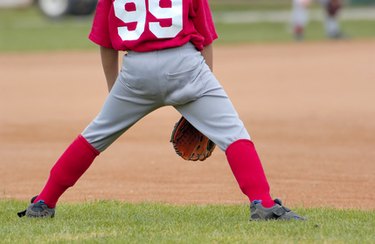 Things You'll Need
Foam Board

Printer

Pins

Scissors

Jersey Pattern Or Old Jersey

Sewing Machine

Iron

Fabric

Iron-On T-Shirt Printing Paper

Thread
Step 1
Obtain a jersey pattern from a craft supply store such as JoAnn Fabric or the fabric section of Walmart. If you would rather not buy a uniform, but you have an old jersey that you no longer wear, take the old jersey apart at the seams and use the pieces as your pattern.
Step 2
Purchase the fabric for the Jersey. Jerseys are typically made of either 100% cotton or a cotton/spandex blend.
Step 3
Pre-shrink the fabric by washing it in warm water and drying it with a hot dryer cycle. Remove the fabric immediately from the dryer after it is finished drying to avoid ironing.
Step 4
Lay the fabric onto the foam board and place the pattern pieces over it. Pin the fabric and pattern pieces to the foam board and cut out the pieces.
Step 5
Set up your sewing machine with the correct thread. Make sure that the bottom bobbin is completely full to avoid the need to refill mid-project.
Step 6
Sew the pieces together at their proper seams. Reinforce each seam at the beginning and the end.
Step 7
Design the jersey's logo on your computer and print it onto a piece of iron-on t-shirt printing paper.
Step 8
Iron the logo onto your jersey while carefully following the directions on the printing paper packaging.