Things You'll Need
Seam ripper

Sewing pins

T-shirt

Tape measure

Fabric

Scissors

Thread

Sewing machine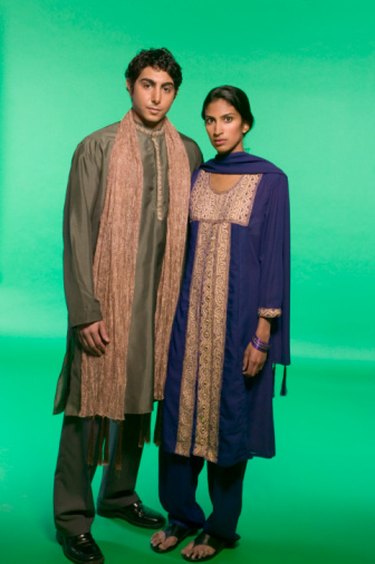 A kurta is a traditional, loose-fitting, long tunic worn by men and women in Asia and the Middle East. It is generally worn over a pair of loose-fitting pants. Kurtas are simple garments, consisting of a front, back and sleeves. In the absence of a sewing pattern, you can use an old T-shirt, that loosely fits the person, as the basis for a pattern for the kurta you will make him. Anyone with basic sewing skills can make a simple kurta, but the more skilled you are at sewing, the more intricate and embellished you can make it.
Step 1
Undo the seams of the old T-shirt, so that you have the basic pattern pieces of a front, back and sleeves. If the T-shirt has no side seams, cut a back and front by cutting straight lines under each armpit down to the hem.
Step 2
Measure the length of the person from waist to knee to determine how long you want the kurta. Then measure from the bottom of the T-shirt to the length you want the kurta to determine how much additional fabric you will need.
Step 3
Pin your pattern pieces to the fabric, allowing extra fabric at the bottom of the T-shirt for the length of kurta you want.
Step 4
Cut around your pattern pieces, allowing a 1-inch seam allowance around each piece.
Step 5
Pin the front and back together, with the right sides of the fabric facing each other and sew the shoulder seams on either side of the neckline.
Step 6
Hem the sleeves, while they are flat, by turning them up 1 inch and sewing them.
Step 7
Pin each sleeve in place, right sides of the fabric facing, and sew them to the body of the garment.
Step 8
Sew the sleeve seams and side seams of the garment, with the garment inside out.
Step 9
Cut an 8-inch slit from the center of the front neckline down. This will provide a simple detail and make the kurta simple to put on and take off.
Step 10
Pin the neckline seam allowance down and sew around the neckline.
Step 11
Hem your garment to the correct length, by pinning it in place and sewing around it.
Step 12
Add embellishments such as ribbon or beads to the neck and hemlines. These can be sewn on, or glued on using a fabric adhesive. If you intend to wash the garment frequently, sew the embellishments on, so that they stay in place.