Things You'll Need
Pattern tracing paper

Marking pen or pencil

Compass

Fabric

Interfacing

Pins

Trim [optional]

Lining [optional]

Scissors

Sewing machine

Thread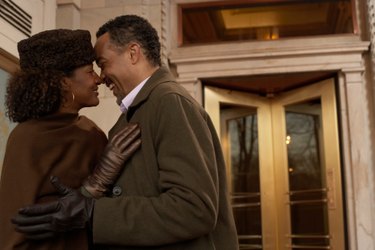 A kufi is a simple brimless hat that requires only two pattern pieces. The name and original design is a derivative of traditional African headgear that is worn by men, women and children from all walks of life and for all occasions. The fabric used to make a kufi can be simple and unadorned like plain cotton, or fancy and elegant like silk, satin, brocade or fur. Personalize your kufi by embellishing it with piping, buttons, braid, and other trims. Most kufis are lined, however, depending upon the fabric used to make your kufi, lining is not always necessary.
Make your pattern
Step 1
Measure the circumference of your head at the level where you want the hat to rest.
Step 2
Determine the desired height of your kufi. Draw a rectangle with a length equivalent to the measurement taken in step one above onto pattern tracing paper. Add a standard 5/8 inch seam allowance on all four sides of your rectangle.
Step 3
Draw a circle onto the pattern paper using a compass. This will be your head circumference measurement with added 5/8 inch seam allowance all around.
Step 4
Cut out your two pattern pieces.
Make your kufi
Step 1
Lay the pattern pieces onto the fabric and trace around them.
Step 2
Cut the pieces out of the fabric. Repeat steps 1 and 2 on the interfacing as well as any optional lining and trim.
Step 3
Sew or fuse the interfacing to each fabric piece.
Step 4
Fold the seam allowance on one short end of the rectangle toward the wrong side and begin pinning the long end to the circle - right sides facing each other. Pin the rectangle completely around the perimeter of the circle.
Step 5
Sew the rectangle to the circle along the pin line. Top-stitch the inside seam allowance to close the rectangle.
Step 6
Repeat the process with lining fabric if you choose to add lining to your kufi.
Step 7
Hem your kufi if it is unlined. If your kufi is to be lined, stitch the lining to the shell.
Step 8
Press your finished kufi and wear it with pride.
Tip
Add piping to the top seam of your kufi by first basting it to the edge of the rectangle that will be attached to the circle. Add rows of trim along the rectangle piece, prior to assembling your kufi.
If you are not planning to line your kufi, you may want to include a sweat band by sewing a wide band of bias tape to the lower edge of the rectangle before hemming. This will also give the inside of your kufi added stiffness to help retain its shape.
Warning
Use care when adding embellishments to reflect your personal taste. Avoid using trims and embellishments that require special care unless you are prepared to wear your kufi for limited special occasions only.