Things You'll Need
2 heavy books

2 sheets paper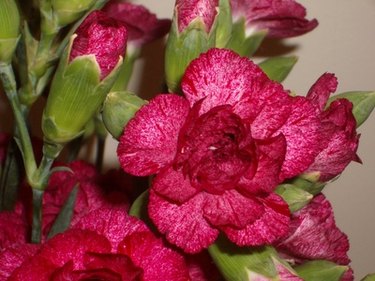 When pressing carnations, take great care, as they tend to wilt and rip quite easily. Pressed carnations make wonderful keepsakes and creative gifts. You can add the flowers to bookmarks, cards, pictures and a variety of other items. Pressing flowers is a great craft for young children.
Step 1
Choose the freshest carnation possible. You want to use a carnation that is not wilted and one where the petals are all opened.
Step 2
Open your book so that it is three-quarters of the way open. Set a sheet of paper on the open page.
Step 3
Cut the stem off the carnation and lay it stem-side down on the paper. Gently smooth out the petals. If you do not smooth the petals, they will roll up and stick together during pressing.
Step 4
Lay the second piece of paper onto the carnation and close the book. Place the book in a dry area.
Step 5
Lay another book on top of the book with the carnation inside and allow to set for approximately three weeks.
Tip
To speed up the pressing process, place the book into the microwave and heat for 30 seconds at a time. Check after each session to see if the flower is pressed. You can purchase special flower presses at some hobby stores.