Things You'll Need
4 pieces of hemp rope (each piece measuring approximately 250 inches/20 feet)

1 pair innersoles in your shoe size

Large needle

Linen thread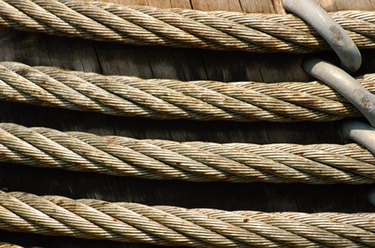 Hemp fiber rope is sturdy and sustainable. Using hemp rope to make yourself a pair of eco-friendly and fashionable sandals is easier then you might think. All you need to make these sandals is a few simple skills and materials. This tutorial uses pre-made sandal innersoles to help form the base of the sandals.
Step 1
Tie two lengths of rope together in the center using a piece of string, and tie the string to a sturdy piece of furniture. You can also place the center of both ropes between your toes to hold the rope while you braid it. You should now have four pieces of string.
Step 2
Braid the string together using a four-strand braiding method. Laying the strings flat, number the outer left string (1), the next string to the right (2), the third string to the right (3) and the last string on the right (4). Move the outer left string (1) over strings 2 and 3 to the left side of strand 4. Move number 4 to the left side of number 1 so it is next to number 3. Continue braiding in this manner, making sure the braid is secure but not too tight.
Step 3
Sew the rope onto the outside edge of the innersole, using a large needle and linen thread. Sew the rope completely around the outer and inner edges of the sole and turn the sole over to sew the rope in a coil onto the bottom of the innersole. The coil should start on the outer edges of the bottom and circle around to the inside. When the bottom is completely covered with sewn rope, cut the braid.
Step 4
Sew the sandal straps to the top of the sandal by inserting one side of the rope in between the sewn rope and the outer sole approximately 2 inches in front of where the front of your ankle would be. Repeat this process on the opposite side, sewing the rope in between the sewn rope and side of the sole.
Step 5
Tip
Create a unique look with your sandals by sewing shells, beads and other embellishments onto the hemp rope on the front and sides of the sandals. Twist the foot strap at the top to create a different look.