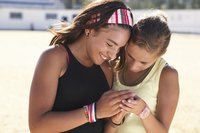 Leather is a flexible material made from processed animal rawhide. It can be used in a variety of craft projects to create items of jewelry, such as bracelets, necklaces and anklets, as well as tassel key-rings and belts. You can experiment with different pieces of colored leather to create unique leather craft items that reflect your individuality and style. The braided bracelet and key-ring leather craft projects are suitable for beginners and are fun to make with kids.
Things You'll Need
Leather strands (1-4cm thick)
Leather (10 inches x 2.5 inches)
Scrap leather
Leather glue
Keyring
Scissors
Tape Measure
Braided Leather Bracelet
Cut a strand of leather that is three times the circumference of your wrists. Repeat with two more strands of leather.
Tie a double knot 2 inches below the tops of the strands. Pull the ends of the leather firmly to create a tight knot.
Separate the leather strands so they are vertically parallel to each other. Weave the left strand over the middle strand. Lift the right strand over the middle strand. Continue to braid until you have created the desired length of bracelet.
Tie a double knot just below the last braid. Leave 2 inches of loose leather strand and cut off any extra with the scissors.
Leather Tassel
Place the leather face down onto your work space with the long side at the top. Measure and mark 3/4 of an inch down from the top edge of the leather. Draw a line vertically across the top of the leather over this mark.
Cut a strip vertically from bottom of the leather up to the line. Continue to cut strips that are as thin as possible all along the leather to form the tassel.
Cut a 3-inch by 1/4-inch piece of leather. Apply a small drop of leather glue onto the front of the bottom of the piece of leather. Stick the leather piece onto the top left corner of the tassel.
Roll the leather up from left to right. Fold over the strip of leather from Step 3 back into the tassel to form a loop. Apply a small drop of leather glue to the inside of the uncut top part of the leather. Stick the leather to itself to complete the tassel and hold it in place.