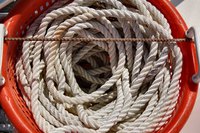 Magically transform a length of rope into a basket with just a few easy-to-find items. Making a lariat rope basket is simple to do with a length of rope and a soldering iron as the heat source. Creating your own lariat basket will save you money and it will give you an original product that you can shape the way you want.
Things You'll Need
6-foot lariat rope
Soldering iron
Metal straight edge
Utility knife
Place one end of the 6-foot rope on a table and spiral the rope around itself until you have the size you want for the bottom of your basket.
Run the tip of a hot soldering iron along where the rope meets itself, melting the edges together. This heating process holds your basket together.
Continue to spiral the rope around on top of the outside of the base. Melt the new layers of rope to the existing layers.
Adjust the shape of your basket by placing the new rope layer on the inside or the outside of the existing layer. Placing the rope on the outside will widen the basket; placing it on the inside will narrow the basket opening.
Cut a long diagonal using a metal straight edge and a utility knife when you reach the end of the rope. Fuse the diagonal to the top of the basket with your soldering iron.