Things You'll Need
Measuring tape

Green felt

Fabric scissors

Thread

Sewing machine

Iron

Brown felt

Pink felt

Hot glue gun

Brown sweat pants

Yellow T-shirt

Stuffing

Yardstick

Red face makeup

Black face makeup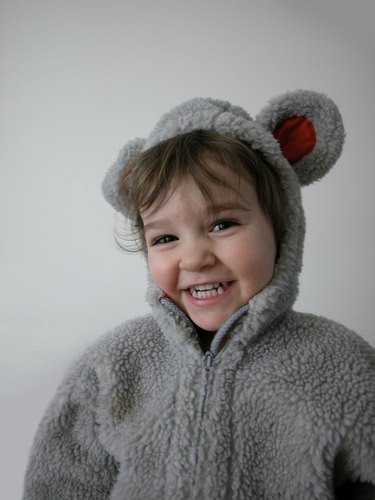 Gus Gus is one of the main mice characters in Disney's "Cinderella" movie. Gus Gus is a great costume idea for Halloween and costume parties, especially as one of a group of costumes including other characters from "Cinderella." While it can be hard to find a store-bought Gus Gus costume, it is easy to make one at home.
Step 1
Measure the wearer's head with a measuring tape.
Step 2
Cut out two triangular pieces of green felt that are each 24 inches tall in the middle and 13 inches wide at the base.
Step 3
Lay the two triangular felt pieces directly on top of each other, right sides of the felt facing each other.
Step 4
Sew the felt pieces together along the longer edges so that the circumference corresponds with the head measurement. Leave the shorter edge open. This will form the hat.
Step 5
Fold over the raw edges of the hat 1/4 inch and iron the folds down. Fold the edges over 1/4 inch more and sew the folds in place.
Step 6
Cut out two circular pieces of brown felt that are each 6 inches in diameter. These will form the ears.
Step 7
Cut out two circular pieces of pink felt that are each 4 inches in diameter. Hot glue these pink circles to the middle of each of the brown felt ears. Hot glue one ear to each side of the hat.
Step 8
Cut out a piece of brown felt that is 30 inches long and 3 inches wide. Sew the long edges of the felt piece together, forming a felt tube. This will form the tail.
Step 9
Sew one of the ends of the tail closed and turn it right side out. Fill the tail with stuffing, using a yardstick to help push the stuffing as far into the tail as possible. Sew the remaining open edge to the seat of a pair of brown sweat pants.
Step 10
Pair the hat and sweat pants with a yellow T-shirt. Paint a red circle on the tip of the nose and three black whiskers on each cheek, using face paint or other makeup.