Things You'll Need
Large non-pierced earring

Nipper tool

Side cutters

Chain nose pliers

1-inch or 3/4-inch barpin

Jewelry metal glue
From the 20s through the 40s, jewelry was made with big rhinestones. Some of the best jewelry designers, like Weiss, Lisner, Coro, Eisenburg and Weisner, made very large earrings that were part of sets. Usually a necklace and bracelet were part of the set. The jewelry is always signed on the back of each piece. It isn't uncommon to find one earring and not the other or have a stone missing from one of the earrings. These are the best kinds of earrings to make into brooches. Better to wear them as brooches than to not wear them at all.
Step 1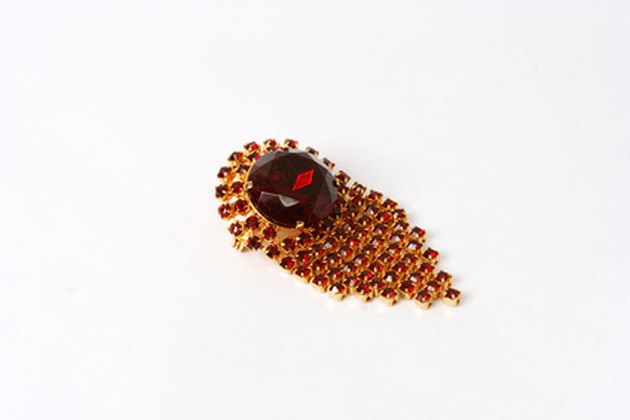 Find a classic old rhinestone earring to convert into a brooch. Estate sales, antique stores, garage sales, your grandmother's jewelry box and even eBay are all good places to find a wonderful old earring. Some of these earrings can be as large as 1 inch in diameter. There are two kinds of non-pierced earring backs: spring clip and screw-back.
Step 2
Remove the back parts of the earring. The nipper tool is sharp and will cut through metal. The spring clip can be cut at the base of the clip where it attaches to the earring. The other non-pierced earring back is the screw-back. To remove the screw-back, clip the neck of the screw-back where it connects to the earring.
Step 3
Use the side cutters to snip away any extra metal pieces that may be sticking out. The side cutters are flatter and can cut any metal that is still sticking up so you can get a clean, flat surface on the back of the earring.
Step 4
Clean the surface on the back of the earring with soap and water before applying the glue. Use the chain nose pliers to hold the pin, with the flat base of the barpin facing up. With your other hand, squeeze a small amount of jewelry metal glue along the flat base of the barpin. Holding on to the pin of the barpin with the pliers, apply the barpin to the back of the earring. Hold the two together for a minute. Lay the earring face down with the barpin glued in place. Allow the brooch to sit overnight.
Tip
All supplies mentioned can be found at most art and craft stores.