Things You'll Need
Pencil

Cup hooks

Heavy trim cord

Decorator tassels

Glue gun

Matching narrow cording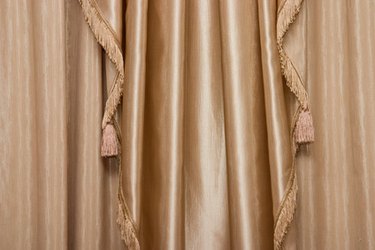 Tasseled rope tiebacks enhance a formal window treatment. They add extra detail and can be used to introduce an accent color to the room. They are also a practical way to adjust curtains for light control. Trim rope or cord is available in many colors. Tassels come in many colors, and in designs ranging from plain single color tassels to stripped tassels adorned with rows of beads and smaller tassels. Tasseled tiebacks can be made without sewing.
Step 1
Mark the height you want the curtain tieback to be with a small pencil mark on the inside of the window frame. Install a cup hook on this mark by screwing it clockwise into the window frame. Drilling a small starter hole with a very small drill bit will make this easier.
Step 2
Knot a length of cord around the curtains to determine the length you want the tiebacks to be. Use the cup hook to hold it up. Cut the cord to this length.
Step 3
Untwist the ends of the cord a half-inch. Glue the hang cord on the top of the tassel into the center of the separated cord. Cut off any excess hang cord. When the glue dries, pull on the cord to be sure it is firmly secured.
Step 4
Twist the cord back together and secure it with a bit more glue. Wrap the thin cord evenly around the place where the cord has been twisted together to cover it and give the tieback a finished look. Sew or glue the end of the thin cord down to secure it.
Step 5
Attach another tassel to the other end of the cord in the same way. Loop the cord over the cup hook, wrap the ends around the curtain and tie them in a square knot.
Tip
Your tassel should be three to five times wider than your cord for a properly proportioned look. Leave several inches of cord between the knot and the tassels.