Things You'll Need
Large, sturdy pinecones

Wide woven basket

String of white mini lights

Clear spray paint

Gold glitter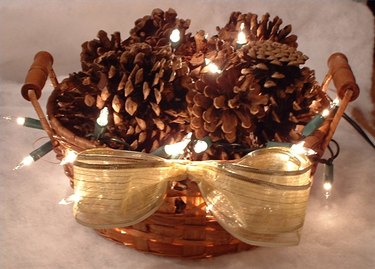 A pinecone basket adds a simple, rustic element to any fireside. However, if you want to make your simple country decor a little more festive for the holidays while adding a lighting option to your hearth, then these lighted pinecone baskets are ideally suited to the job. This home accent takes less than 10 minutes to complete and will set your fireplace aglow all fall and winter long.
Step 1
Spray the pinecones with the clear spray paint. This should be done outside if possible, and, at the very least, in a well ventilated area.
Step 2
Sprinkle the pinecones with the gold glitter. Some of the glitter will stick to the wet spray paint and give your pinecones a little extra sparkle. If you want lots of glitter, then use a glitter glue pen to add thick lines of glitter along the edges of the pinecones' petals.
Step 3
Pile the pinecones in the basket among the mini lights. Make sure that you leave enough electrical cord hanging out of the back of the basket for the lights to reach an outlet so that they can be plugged in. As you place pinecones in the basket, weave the mini light string around the edge of the inside of the basket so that the lights appear to come from within the pile of pinecones. They will also shine through the weave of the basket.
Step 4
Plug the basket in. Make sure you like the way the lights and the cones work together in a dimly lit room. If not, then pull the entire array of components of the basket out and reassemble to fit your idea of what you want the basket to look like.
Tip
You can add Christmas balls to the basket if you are using the home accent just for Christmas. Also, the more lights you add the brighter your basket will be.