Things You'll Need
Acrylic paints: zinc white, ultramarine blue and mars black

Palette knife

Palette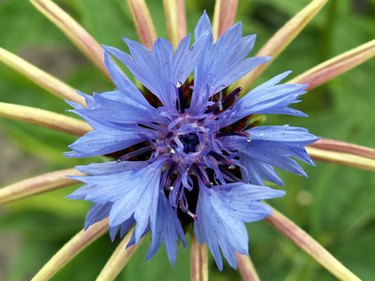 Cornflower blue is a light blue color that has a hint of neutral shading to it. Based on the hue of the cornflower, the color as it appears in design and painting application is both rich and restrained. Rather than a clear, clean pastel color which would be mixed with blue and a pure white, cornflower blue exhibits a little gray tinge, which is achieved by first mixing a gray with mars black to create a warm neutral.
Step 1
Squeeze out a teaspoon of zinc white, the same amount of ultramarine blue and a drop of mars black on your palette.
Step 2
Stick the very tip of your palette knife into the black paint and remove it. A small amount of paint will remain on the palette knife.
Step 3
Mix the black paint on the palette knife into the white paint. Use a sweeping back and forth gesture, scooping up the paint with the palette knife and turning it over until the paint is a uniform gray.
Step 4
Add a small amount more of black using the same technique, if you need to, in order to make a light medium gray. The gray should be about the same shade as a light gunmetal gray.
Step 5
Mix the entirety of the gray paint with all of the blue paint, and blend well until it is a uniform cornflower blue. If your blue is too blue, add a tiny bit of white; if it is too light, add a bit of blue. As above, add just a tiny amount at a time.