Things You'll Need
Craft box

Foam paint brush

Acrylic paint

Wrapping paper or Origami paper

Greeting cards

Scissors

Decoupage medium

Clear acrylic sealer

Ribbons

Beads

Hot glue gun or white craft glue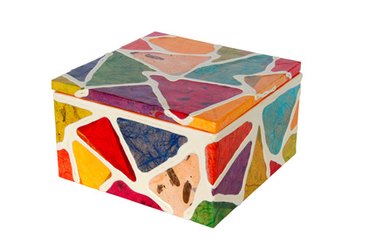 Small craft boxes made of cardboard or wood are found in many craft stores. These boxes can be decorated to match your home decor or to serve as gift boxes during holidays and birthdays. Creating decorated craft boxes is a great way to use old wrapping paper or recycle greeting cards. Keep in mind that you can use the same process to decorate empty cigar boxes or any small boxes you have in your home.
Step 1
If you plan on leaving some of the box exposed, paint it with acrylic paint in the color of your choice using a foam paintbrush. Let the paint dry completely before you continue.
Step 2
Choose wrapping paper, origami paper, magazine pages or greeting cards to decorate your box. Cut the paper to cover each side of the box or cut out small pictures or shapes to attach to the painted surface of the box.
Step 3
Apply a thin coat of decoupage medium to one side of the box with a foam paint brush. Carefully press a piece of paper onto the box and smooth it down to remove wrinkles.
Step 4
Apply a coat of decoupage medium over the paper and continue to smooth down the paper with your fingers to adhere it to the box.
Step 5
Continue to apply paper or cutouts to the exterior and interior of the box until you are satisfied with its appearance. Let the box dry until it is no longer tacky to the touch.
Step 6
Spray a coat of clear acrylic sealer on the small craft box. This will protect your design and prevent the paper from peeling away over time.
Step 7
Attach ribbons or beads to the exterior of the box with a hot glue gun or white craft glue to further decorate it, if desired.
Tip
You can use a regular paintbrush to paint the craft box but a foam brush will not leave brush strokes in the paint and may result in a neater and more attractive appearance on your finished craft box.
Warning
Decorate the lid of the craft box in the same manner but do not place the lid on the box until both pieces are completely dry. If the decoupage material or acrylic sealer is still tacky, the lid may become glued to the box and may be impossible to remove without damaging your design.