Things You'll Need
Knitting yarn

Elastic invisible knitting thread

Knitting needles

Sewing needle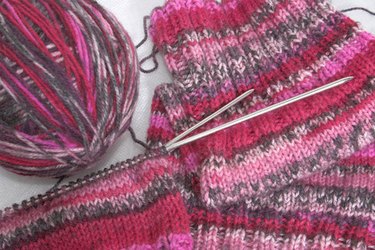 Having the right ribbing for knitted socks can make the difference between whether they stay up or stretch out after just a few wearings. The K2-P2 pattern is supposed to be the best choice. Tightly-knitted stitches are also recommended. But there is a third choice that is more consistent in maintaining holding ability. You can buy elastic invisible knitting thread that is very thin but highly elastic and will not alter the thickness of your socks. There are two ways to use it and both are equally effective.
Knitting Elastic into the Ribbing
Step 1
Tie the ends of the yarn and invisible elastic thread together. Cast the stitches on to the knitting needle as you normally would, using the combination of yarn and elastic.
Step 2
You should knit the entire ribbing, using the combination of yarn and elastic.
Step 3
Cut both the elastic and yarn 2 or 3 inches from the last knitted stitch. Tie the yarn back on, making sure you include the elastic in the knot. This will secure the end of the elastic so it does not slip up into the cuff over time.
Adding Elastic After the Sock is Finished
Step 1
Thread a sewing needle with the invisible elastic. You will be sewing on the inside of the cuff, so turn the sock inside-out to make it easier.
Step 2
Sew the first stitch just below the upper ridge of the cuff and secure it by looping it through itself with a second stitch.
Step 3
Start sewing with a continuous running stitch around the top edge of the cuff and keep spiraling down making rows about 1/4 inch apart. If it is a large, loosely-knitted cuff, sew into every knitted row.
Step 4
Sew to the end of the cuff and finish off with several stitches sewn into each other to secure the elastic.
Tip
If you want the whole sock to have stretch, do not cut the elastic at the end of the ribbing. Continue knitting the entire sock with the combination of yarn and elastic. Tie off the elastic at the end so it will not retract into the sock.