Things You'll Need
Linen or cotton fabric

Cardboard

Ruler

Scissors

Straight pins

Thread

Sewing needle

Lace or crochet edging

Embroidery thread

Embroidery needle

Embroidery hoop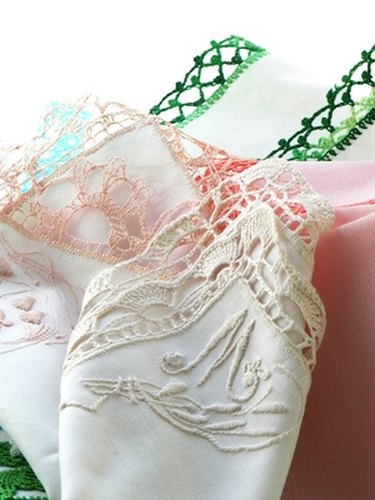 A handkerchief has many more uses other than for sneezing. Embellish your handmade handkerchiefs with embroidery and lace edgings. Use hankies to make colorful summer dresses, handbags, scarves, quilts, wall hangings, table runners and baby bonnets. Handkerchiefs are made of thin linen when used for the nose, and quality cotton fabric (called quilting cotton) when used for clothing and home decor. All of these projects, however, start with learning how to sew a handkerchief.
Step 1
Wash the material without fabric softener to preshrink it.
Step 2
Iron and starch the material for ease of use.
Step 3
Make a cardboard template in the size you need: small projects, 7 inches; lady's hankies, 9 inches; and men's hankies, 13 inches. Measure the appropriate size and draw a line for all four sides of the template. Then measure 1/2 inch inside that line and draw the seam line on all four sides. Cut out the template from the cardboard and then cut out the center part of the template. You should have a template that is 1/2-inch wide on all four sides.
Step 4
Place the template on the wrong side of the fabric and, using sewing chalk, draw both the cutting line and the seam line.
Step 5
Cut the fabric with a rotary cutter or straight sewing scissors. Do not use pinking shears.
Step 6
Place the material so the wrong side is facing you. Fold the edge over 1/4-inch and then roll it for an additional 1/4-inch to the seam line. This will hide the cut edge of the material while giving an attractive 1/4-inch rolled hem. Pin the hem in place.
Step 7
Miter the corners where the hems meet. This means to create a diagonal seam that points to each edge of the handkerchief. It eliminates the extra bulk where the hems would normally overlap.
Step 8
Sew the hems and remove the pins. The finished size of your handkerchief will be 6 inches for a small project, 8 inches for a woman's hankie and 12 inches for a man's handkerchief.
Step 9
Attach any edging you like, such as lace or crochet, by sewing along the same seam line. Use thread the same color as the edging for a blended look or choose a contrasting color for added interest.
Step 10
Embellish your handkerchief, if desired, by embroidering your initials or perhaps a floral motif. Either transfer the design with a hot iron (no steam) or follow your chart. Put the hankie in an embroidery hoop so the fabric is taut but not stretched.
Tip
An empty cereal box can be recycled as a template.