Things You'll Need
Pre-mixed cement

Six-inch drywall knife

Old comb

Plaster

12-inch drywall knife

Sanding pad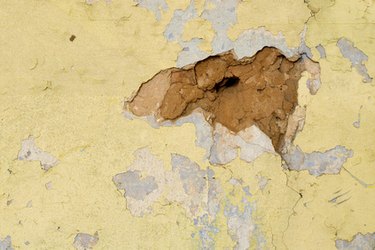 Old plaster that's crumbling off a wall or ceiling can be completely replaced with a drywall patch. However, that requires cutting out a large chunk of the area and it's difficult to make the drywall look consistent with the surrounding plaster. If the wood or wire lath behind the plaster is intact, you can patch it with cement and plaster instead, which is easier and may look better. Cement is used as an underlayment, since a very thick layer of plaster is likely to crack.
Step 1
Pull down all the loose plaster that will easily come off, while leaving the lathe in place. Make sure the edges of the damaged area especially are solid and not crumbling. Brush away all the debris and dust form the lath.
Step 2
Spread a thin layer of cement over the expose lath, using your six-inch drywall knife. Make the layer just thick enough to completely cover the lath, but not as high as the level of the plaster. Once it's on, run a comb over it to score the surface with lines.
Step 3
Let the cement dry for about eight hours. Apply a second layer over the first, again keeping it thin, and again combing it with lines. The second layer should be almost (but not quite) level with the surrounding plaster. Let it dry for 24 hours.
Step 4
Spread plaster over the cement with a 12-inch drywall knife. Get the new plaster completely even with the surrounding old plaster. Use the knife to get it as smooth as possible. Let it dry for 24 hours.
Step 5
Sand the dried plaster smooth with a sanding pad. The area is now ready for re-painting.