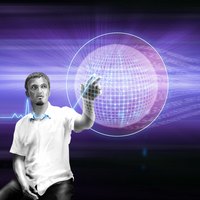 Hologram stickers fascinate with a laser play of prismatic light. Metalized paper embossed with the hologram design causes a shimmering rainbow effect. Hologram stickers make effective decorations for outer space parties, futuristic events, marketing, kids rooms and school projects. Harness this effect for yourself with homemade hologram stickers. Design your own sticker shapes and apply them to school binders, text book covers, notebooks, gifts, cards, place holders, bookmarks and for decorating craft projects such as purses, candle holders, belts, bulletin boards, frames and any other firm surface. In an afternoon, you can craft hologram stickers for your own projects and to share.
Things You'll Need
Holographic paper or hologram gift wrapping paper
Stencils
Sharp pencil or felt tip pen
Cutting board
Utility knife
Glue stick
Sheets of large adhesive paper labels—blank labels designed to use in a computer printer
Clear adhesive shelf liner
Small squeegee
Place a sheet of hologram gift wrapping paper with the hologram side up on a cutting board.
Create the sticker shapes on the hologram paper. Hold a stencil down on the paper and draw the shape or draw the shapes free-hand. Make circles by tracing a spice jar. Draw as many stickers as desired in a variety of shapes, such as stars, half moons, a crown, a flower or any other design with basic lines and curves that will be basic enough to cut out easily.
Cut out the hologram sticker shapes slowly and carefully with a utility knife on the cutting board.
Place the hologram shapes on the sheets of large paper labels. Center the holograms so that they fit on the labels. Hold a hologram shape firmly with one hand and trace around it with a pencil. Repeat for all the hologram shapes.
Place the paper labels on the cutting board. Spread glue on the sticker shapes with a glue stick.
Center the hologram shapes on the matching paper label shapes and press each one down on the glue.
Unroll enough clear shelf liner to cover all the stickers. Cut the length of shelf liner. Carefully remove the backing, keeping the adhesive side of the liner from sticking to itself. Center it over the stickers and press it down over all of them.
Press the clear liner to the stickers firmly with your hands. Use a squeegee to remove air bubbles, if needed.
Press the clear liner down with your finger tip all around the edge of each hologram sticker to help it adhere.
Cut out the hologram stickers with the utility knife.
Apply the hologram stickers by peeling off the backing and pressing it to the desired surface.