Things You'll Need
Table

Wood block larger than the book's cover

Damp sponge

Leather stamps

Mallet

Small paintbrush

Gold leather dye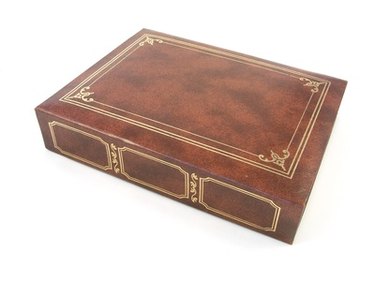 Through a fairly simple process, you can emboss designs, names or whatever else you would like on leather-bound books. Leather stamps are different from other types of stamps, since they are designed to make an impression in a tough material. You can buy leather stamps at a local craft store or at one of many Internet craft stores. For your first attempt at embossing a leather book, use a practice book until you get the process down.
Step 1
Choose a solid table as a place to perform your work. Open the cover of the book and place it over the wood block.
Step 2
Clean the book cover with a damp sponge. The water will help the leather stamps make a more clear impression in the leather.
Step 3
Position the leather stamps on the leather until you have the layout the way you want it. Use a ruler to measure the spacing between letters and other designs.
Step 4
Hit the handle on the leather stamps with the mallet. Lift up one side of the stamps to make sure they have made a clear impression in the leather before completely removing the stamps.
Step 5
Paint the embossed portions of the book cover with a paintbrush and gold leather dye. Let the leather dye dry for several hours.