Things You'll Need
Archival tape

Acid-free tissue paper

Storage box

Cardboard

Plastic sleeve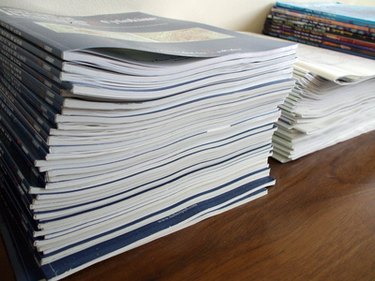 Newspapers and magazines record events that go on within our daily lives. There are times when a special moment or a historical event is featured in a magazine or newspaper, and holding on to it as a keepsake is important. You can preserver important issues of periodicals so that you'll always remember the moment. With the right supplies, you can successfully preserve old newspapers and magazines.
Preserving Old Newspapers
Step 1
Unfold the newspaper so the front page shows without having to flip it over. Make sure the newspaper lays flat on a table or countertop. You will store the newspaper in this position, with the front page shown in its entirety. If the newspaper is stored folded, the fold will eventually tear.
Step 2
Wrap the newspaper in acid-free tissue paper. Make sure you cover every inch of the newspaper with tissue paper. You can purchase acid-free tissue paper from your local arts and crafts store. Seal the tissue paper around the newspaper with archival tape, leaving one end free where air can get in and out. The archival tape will hold the tissue paper in place. Archival tape can be purchased at your nearest arts supply store.
Step 3
Store the newspaper in a storage box that is no deeper than 10 inches. You can measure the dimensions of your newspaper and bring those measurements to an office supply store to purchase the right box. Place the cover on the box after you have placed your newspaper.
Step 4
Store the box in a dry area in your home or office.
Preserving Old Magazines
Step 1
Separate important articles or advertisements with acid-free tissue paper. If you would like, you can place acid-free tissue paper between each page. This preserves the pages and maintains its look and feel.
Step 2
Place corrugated cardboard under the magazine to support the back. The cardboard will also keep the magazine flat.
Step 3
Place the magazine and the piece cardboard in a plastic sleeve. The plastic sleeve will keep away dust and moisture. Plastic sleeves come in a variety of sizes. You can purchase plastic sleeves from your nearest office supply store.
Tip
Keep the newspaper from direct sunlight and moisture. Sunlight can cause the newspaper to fade and yellowing on the paper, while moisture can grow mold on the newspaper.