Things You'll Need
Sand

Plastic cup

Paper plate

Teaspoon

Powdered tempera paint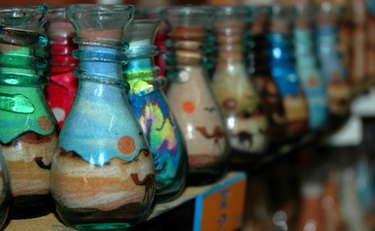 Making colored sand is a great arts-and-crafts project for both children and adults. Colored sand is nothing more than a simple mixture of sand and powdered tempera paint, which can be purchase at any arts and crafts or art supply store. After you have made your colored sand you can use it for decorating other crafts or fill glass jars with it to place on windowsills, shelves and tables for decoration.
Step 1
Fill up a plastic cup halfway with sand.
Step 2
Mix one teaspoon of powdered tempera paint into the sand.
Step 3
Add one teaspoon of water to the mixture and stir it until the sand is evenly colored.
Step 4
Pour the mixture onto a paper plate to let it dry.
Tip
Experiment with different ratios of sand, paint and water to get different results.
Warning
Do not use to much water or the sand will take longer than 30 minutes to dry.