Things You'll Need
Outdoor ribbon

Scissors

Floral wire

Hot glue gun

Cooking oil

Paper towels

Suction cups with hooks -- 1 to 2 per wreath
Adorning exterior windows with wreaths adds a festive look to your home during the winter holiday season -- and any other time of year you feel like embellishing your windows. You can create decorative wreaths with a fall theme, a spring theme, a patriotic theme for the Fourth of July, or to celebrate a special event such as a homecoming or wedding. The best method for attaching the wreaths depends on the type of windows you have, the weight of the wreath and the look you want.
Ribbon Method
Step 1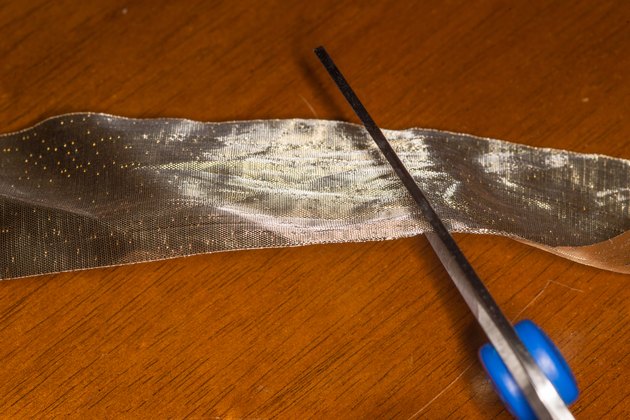 Cut a length of ribbon for the first wreath. Use ribbon recommended for outdoor use. Experiment with the first ribbon to determine the length you'll need for all your wreaths, according to the size of the windows and where you want the wreath to fall. Make any necessary adjustments for windows of different sizes.
Step 2
Loop the ribbon through the top of the wreath. Holding both ends of the ribbon together, tie a loose knot at the end of the ribbon.
Step 3
Open the window from the top wide enough to fit the wreath through. Put the wreath on the outside of the window, draping the ribbon over the top edge of the window while you hold onto the knot. Position the wreath where you want it.
Step 4
Close the window carefully, while still holding onto the knot, which remains on the inside of the closed window. Latch the window to make sure it is securely closed.
Suction-Cup Method
Step 1
Cut a length of floral wire to fashion a hanging loop for your wreath. Thread the wire through the top of a wire wreath frame and twist the ends together to form a loop. Use a hot glue gun to attach the wire loop to a foam or wood wreath frame.
Step 2
Moisten a paper towel, lightly, with cooking oil. Wipe the oil inside a suction cup with a hook.
Step 3
Push the suction cup firmly against the exterior surface of the window. Apply pressure for about a minute to secure the suction cup to the surface. Repeat the process if you need an additional suction cup to support a heavier wreath.
Step 4
Hang the wreath's wire loop on the suction cup hook. Position the wreath the way you want it on the window.
Tip
Another option for hanging wreaths on exterior windows is to use a double magnetic window hanger. This type of hanger uses two strong magnets, one inside the window and one outside the window. The hanger holds wreaths up to 10 pounds and works on single-pane glass.
Alternate ribbon colors to add interest to your wreath display, such as green and red for Christmas wreaths or yellow and orange for autumn wreaths.
Warning
You may need to secure ribbon-hung wreaths at the bottom with suction cup hooks if you live in a windy area.