Things You'll Need
Template

Cardstock, 5 by 7 inches

Glue

Scissors

Decorations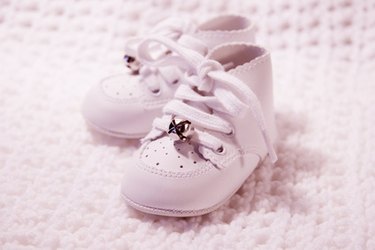 Handmade articles are always heartwarming as party favors or decorations. A paper baby shoe is a perfect homemade decoration for a baby shower or to hold candy or trinkets when tied to a baby shower gift. A simple, two-piece pattern can be downloaded and printed from your computer. The pattern can then be traced onto decorative cardstock or other heavy paper and glued in place to create a charming touch to any baby-related festivities.
Step 1
Cut out the two pattern pieces on the template.
Step 2
Trace the two pattern pieces from the template onto a piece of cardstock. Cut out the two pieces from the cardstock.
Step 3
Transfer the location of the dots on the template to the cardstock. You will use these dots to align the pieces later during assembly. Also indicate the dotted line for gluing and the location of the front of the shoe on each pattern piece.
Step 4
Apply decorations to the front of the shoe on the top piece of cardstock. You can use anything you like, such as paint, stamps, markers, ink, ribbon, glitter or beads.
Step 5
Line up the tab with the dot on the top piece of the shoe marked "Front" with the dot on the bottom piece of the shoe marked "Front." Glue them together with a glue dot. The tab on the top piece should fold under the bottom piece of the shoe. Line up the other dotted tab on the back of the top piece with the other dot on back of the bottom piece of the shoe and secure them with a glue dot as well. This should align the pieces properly.
Step 6
Secure the two ends of the top piece together with glue where indicated on the pattern to create the three-dimensional shoe. The top piece should now wrap around the bottom piece.
Step 7
Place a glue dot on all the other tabs on the top piece in turn and fold them under the bottom piece, securing all the tabs in place.
Step 8
Secure the strap of the paper shoe with another glue dot in the locations specified on the pattern piece. The finished paper shoe is just over 3 inches long.
Tip
Add any decoration you like for a buckle at the end of the strap once it is glued in place such as a charm or small artificial flower.
Add faux shoestrings by gluing ribbons in a crisscross pattern on the shoe upper before assembly.
You can use liquid glue but it should be one that is quick to bond so that the pieces come together quickly. Otherwise you will have to hold the pieces until they bond, slowing the process considerably.
Creating these paper baby shoes is also a good baby shower game for the party guests.
A boys shoe pattern is also available.