Things You'll Need
Pot

Peanut butter

Sour cream

Lime juice

Onions

Tomatoes

Avocados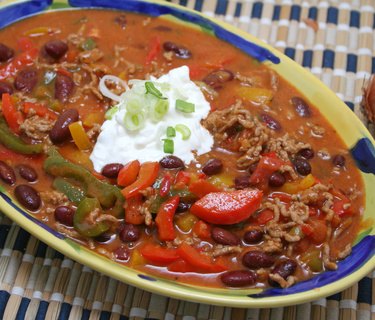 Chili can take a long time to cook if you want the meat to slowly break down for the best taste. However, chaotic days can cause the bottom of the chili pot to burn. In addition, those who use cheap cooking pots will notice the bottom of the pot looking terrible after the chili has burned. You don't need to throw out the batch of chili. There are ways of improving the taste and saving the day.
Step 1
Take the chili pot off of the stove. Get a replacement pot the same size as the existing chili pot.
Step 2
Pour the chili into the replacement pot and do not disturb the bottom of the pot. Set the burnt chili pot to the side.
Step 3
Turn on the stove to a medium heat. Add two tbsp. of creamy peanut butter. Stir the peanut butter into the chili.
Step 4
Add more peanut butter until you cannot taste the burnt chili. Take the chili off the stove when it is sufficiently warm.
Step 5
Spread various condiments over the chili such as sour cream, lime juice, onions, tomatoes and avocados. Serve immediately.
Tip
Avoid future chili burning disasters by cooking your chili in a crock pot that has a timer.
Warning
Avoid eating the burnt chili because burnt food can contain harmful carcinogens.