Things You'll Need
Art painting

Pencil

Tape measure

Protective eye goggles

Battery-powered hammer drill

Carbide-tipped drill bit

One-piece expansion anchor

Metal sleeve anchor

Picture hook and plastic plug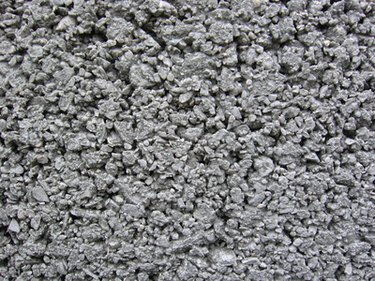 Before hanging anything on your concrete wall, determine if you have a hollow or solid concrete wall. Use a one-piece expansion anchor on solid concrete and a metal sleeve anchor on hollow concrete. Also, find out how much the art object weighs, and choose anchors that will support its weight. A good rule of thumb is to select concrete wall anchors that hold 50 percent more weight than what you need, so you can rest assured that the art will hang securely.
Step 1
Hold your art painting up against the concrete wall, and mark where you want the center of the art to hang. Keep the middle of the painting about eye level, somewhere around 5 foot 8 inches to 5 foot 10 inches. If people will see the painting mostly from a seated position, hang the painting so you can view it at eye level when seated.
Step 2
Measure the distance from the top of the painting to where the wire would hang when suspended, the highest point of the wire.
Step 3
Use this measurement to determine the distance from the mark you made on the wall down the concrete to where the picture hook will be located.
Step 4
Put on eye goggles, which are important to wear when drilling into hard walls.
Step 5
Drill a hole in the mark for the picture hook. Make certain the size of the drill bit matches the size of the plastic plug for the hole. Use a 6 mm drill bit with a 6 mm plastic plug for regular size paintings. Drill two holes, using two 6 mm plastic plugs spaced wide apart for a large, heavy painting.
Step 6
Insert the plastic plug in the hole you drilled. Screw the picture hook into the plug, then hang your painting.
Tip
Purchase wall anchors for concrete at hardware stores or online.
Rent a hammer drill at a tool rental store if you do not own one.