Things You'll Need
12 volt drill battery charger

Masonry bit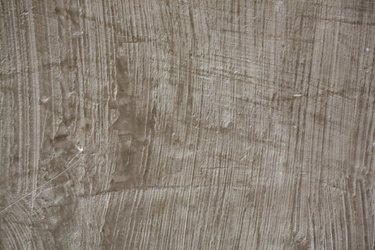 Drilling a hole into concrete is best accomplished with a drill that you plug into a wall outlet. But if you do not have a corded drill, or if the concrete is in a location where no electricity is available, you may need to complete the job with a 12 volt drill. Drilling into concrete with a 12 volt drill is similar to using a corded drill for the task and requires the same basic drilling technique.
Step 1
Charge the battery for the 12 volt drill fully using its battery charger. Drilling into concrete is a tough job for a battery-operated drill, and a full charge will help ensure success.
Step 2
Install the fully charged battery into the handle of the drill.
Step 3
Insert the squared end of a masonry bit into the chuck at the end of the drill. Tighten the chuck by holding it with your hand and squeezing the trigger while the drill is switched to the forward position. Ensure that the bit is the correct size for the hole you wish to drill.
Step 4
Check the location on the concrete and ensure that it is where you want the hole drilled. Avoid making unnecessary holes by drilling in the wrong location.
Step 5
Hold the trigger end of the drill in your dominant hand and steady the front of the drill with your other hand. Pull the trigger and place the drill over the location where you want the hole. Hold the drill at a 90-degree angle to the wall so the hole is drilled straight. Guide the drill into the wall with moderate pressure. Once the desired depth is reached, back out the bit while the drill is still running.