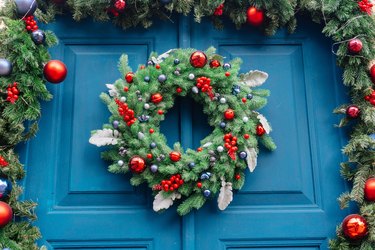 Are you looking to make your front entrance Christmas garland decorations more beautiful this year? There is more than one way to hang garland around doors, and you will be amazed at the different options and how stunning they look. The garland can be faux or fresh, and your family and friends will be impressed when they notice your handiwork.
Christmas Door Garland Ideas
The most traditional way to decorate a front entrance with garland is to hang it around the perimeter and place a wreath on the door. However, that doesn't mean this is the best way to hang garland on doorways or the only way. You can choose to hang your garland around the inside of a door frame or do so outdoors.
Experts suggest using two 9-foot garlands, small white screw-in hooks and two pieces of 16-inch, 20-gauge wire if you have a standard-size door. To determine how much garland you need, measure both sides and the width of the door frame, adding these up to find the amount of greenery to buy.
Twist removable adhesive hooks directly into the inside door frame – four on each side and one at the top center of the door frame. They do not have to be equidistant from one another. Attach the garland with the floral wire, doubling it up to ensure the garland stays in place. You can use more floral wire to attach bells, ornaments, pine cones and other decorations. Tie some bright ribbons onto the garland if you like, and if you have an outside outlet close to the door, you can add some Christmas lights. Make sure that the light string does not block the entrance. Feel free to be creative with the center of the door, as it does not have to be a wreath or match the garland.
Other Ways to Use Christmas Garland
The doorway garland does not have to be inside the door frame. Instead, you can hang it outdoors if you prefer. Are you wondering exactly how to put garland around outside doors? Some ways to style this include using a natural, unlit garland on the outside of your door.
Some decorators enjoy using garland on stairway railings too. To do this yourself, loosely drape the garland around the length of the handrail. Let it pool elegantly at the bottom, tying on different-colored large or small bows and hanging ornaments.
Another idea is to drape fresh garland on top of a window. If you have multiple adjacent windows, hang the garland at the end corners, sag it in the middle and allow the ends to trail onto the floor. You can also drape garland on top of a fireplace mantel and secure it in place with heavy Christmas decor on top. You can make garlands out of many other materials too, like metal, crepe and yarn.
Caring for Natural Christmas Garland
Natural garlands will only last up to three weeks indoors when cared for properly but will last longer outside. After buying your garland, store it in a cool area, like an unfinished basement or inside a refrigerator, until ready to use. Submerge cut stems in water the night before hanging to allow them to absorb more moisture.
Try to hang natural wreaths and garlands out of direct sunlight and away from any heating vents. Buy an anti-desiccant spray to seal in the moisture and spritz the greenery once a day to extend their life. They will probably drop some of their needles, and you can gently pull off any of these. Be careful, though, or they will cascade to the ground.