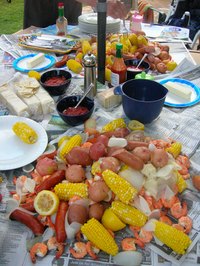 A shrimp boil party is a great way to get family and friends together and a tradition in the coastal South. All you need are the ingredients, folding tables, chairs and a seafood boiler with a liner basket. The shrimp and other ingredients are plunged into the boiler to cook. No ceremony here. When done, everything is strained out and poured onto a table covered with newspaper. If everyone brings some corn, potatoes, shrimp and sausage, they'll all feel they have contributed and will eat to their heart's content.
Things You'll Need
60 qt. propane seafood boiler with basket hook
1 large box seafood boil seasoning
1/2 cup salt
3 lemons, sliced
10 cloves whole garlic, peeled
3 large onions, quartered
1 ear of corn per person
3 small red potatoes per person
1/2 lb. andouille sausage per person
1/2 lb. raw unshelled shrimp per person
Folding tables
Newspaper
1 loaf french bread per family
Cocktail sauce
Melted butter
Paper towels
Fill the boiler half way with water. Add the shrimp boil seasoning, salt, sliced lemons, garlic cloves and cut onion. Bring to a boil.
Shuck the corn and break each ear in half. Wash the potatoes. Cut the andouille sausage into double bite-sized pieces.
Place the basket in the boiler. Add the potatoes and boil for five minutes. Add the ears of corn and boil for five minutes. Add the sausages and boil for five minutes. Add the shrimp and boil for five minutes.
Prepare the tables by placing sheets of newspaper on them. Remove the basket from the pot. Carry the basket to the table. Hook the end of the basket with the seafood boiler hook and pour the shrimp and other goodies onto the middle of the table. Serve with bread. Dig in.
Clean up by folding the newspaper over the remains. Ball it all up and throw it away.