Things You'll Need
Bowl

Paring knife

Stockpot

Crab and shrimp boil or seasonings, to taste

Red potatoes

Ears of corn

Lemon wedges

Skillet

Butter

Garlic

Salt and pepper, to taste

White wine, optional

Skewers

Olive oil

Basting brush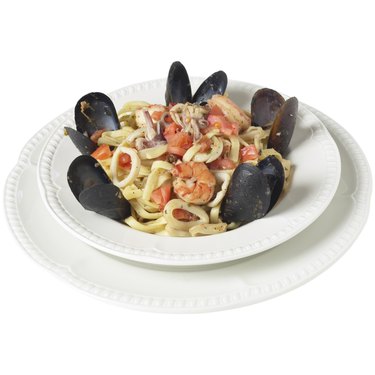 Flash-frozen shrimp is a superior choice when you are preparing shrimp dishes. Flash-freezing means the little crustaceans were frozen within hours of leaving the net, ensuring that you have the freshest product possible. Master the techniques to boil, sauté and grill shrimp -- three classic shrimp-cooking methods -- to create a variety of dishes for appetizers, salads and full meals.
Step 1
Place the package of frozen shrimp in a bowl and refrigerate them to thaw overnight. Run the tip of a paring knife down the back of each shrimp to remove the black "vein," if the shrimp have not already been deveined.
Step 2
Boil the shrimp in a stockpot of water seasoned with crab and shrimp boil seasonings, or create your own flavors using onion powder, garlic powder, black pepper, dill seed or crushed red pepper flakes. Add cut-up red potatoes and corn segments and cook for about 15 minutes. Add the shrimp to the pot and simmer until the shrimp are pink and opaque, stirring occasionally. Turn off the heat and steep the shrimp -- allow them to sit in the water -- for five minutes. Serve the shrimp and vegetables warm or chilled with lemon wedges on the side.
Step 3
Sauté the shrimp in a garlic-butter sauce for scampi-style shrimp. Melt butter in a skillet over medium heat. Stir in minced garlic, salt and pepper to taste. Add white wine to taste, if desired. Simmer the sauce until it reduces by half. Add lemon juice to taste before adding the shrimp to the sauce. Sauté them until they are pink and opaque, approximately five to 10 minutes.
Step 4
Grill skewered shrimp on a grill, along with vegetables, if you like. Season the shrimp with salt, pepper, herbs and spices. Brush the grill rack with olive oil to prevent the shrimp from sticking. Grill the skewers three to four minutes a side until the shrimp are pink, opaque and curled into a "C" shape.