Things You'll Need
Cardboard

Scissors, plain and decorative

Markers

Craft paper

Glue

Fabric scraps

Yarn or embroidery thread

Craft or scrapbook punches

Craft stamps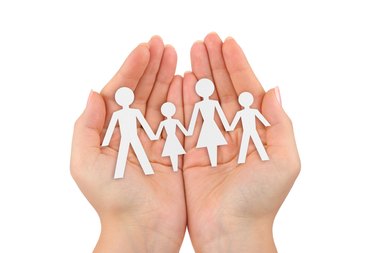 The three-dimensional quality of a diorama can leave your cardboard cut-out people looking a little flat and dull. Why not make them stand out in their environment by using simple craft supplies such as yarn, paper, decorative scissors or fabric scraps? Hair can be created with yarn or embroidery thread. Cut clothing out of paper or fabric scraps and glue it to cardboard figures to give dimension. Small details can be created with decorative scissors, ink stamps or ribbon to make a cardboard person unique.
Step 1
Trace the outline of a person onto the cardboard, or print one on paper and glue it to the cardboard. Cut out the person around the outline, leaving wide tabs below the feet. The tabs will be used to glue the person to the floor of the diorama. With markers, add details such as eyes and mouth.
Step 2
Glue yarn or embroidery-thread hair to the head of the cardboard figure. Hair can be glued in strands to hang loose, or as braids or a ponytail. Pay attention to details such as bangs and the parting of the hair for the most realistic look. Small bows made of ribbon, beads or even flowers can be glued on as hair accessories.
Step 3
Trace the outline of clothing onto paper or fabric. Clothing can be designed to cover both sides of the cardboard or just the front. Use decorative scissors to add details to paper clothing such as scalloped edges at the bottom of skirts, shirts or pants. Use craft stamps on paper to create a unique print on the clothing. Fabric clothing can be gathered to create folds or frills, and will add more depth to the clothing than paper will. Felt or imitation leather can be used for shoes or boots.
Step 4
Glue the clothing to the cardboard figure. Add additional accessories to the person: Glossy ribbon can make a belt. Turn beads or bits of chain into jewelry. Cut a purse or backpack from fabric or paper for the figure to carry.
Step 5
Bend the tabs below the feet backward at a 90-degree angle. Apply glue to the bottom of the tab and glue the cardboard figure into place in the diorama.
Tip
Make the cardboard person fit the environment of the diorama. For historical scenes, match the clothing to what a person of the time period would wear.