Things You'll Need
Guitar case

Light grain sandpaper

Primer paint

Acrylic paint

Brushes

Palette knife

Palette

White chalk pencil

Acrylic top coat

Large flat brush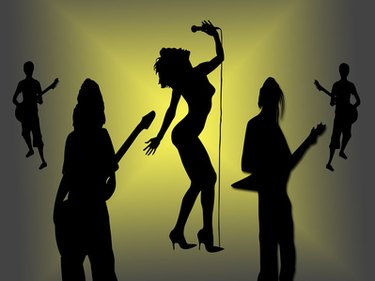 Be the coolest member of the band with a custom-painted guitar case. To keep the paint from peeling or flaking, start with a base coat of white primer paint such as Gesso, which can be purchased at art stores. Do not prime areas of your case that you will not be painting. Use acrylic paint; it is durable, which makes it ideal for a guitar case that may be moved around a lot on tours or checked-in as luggage.
Step 1
Dust off your guitar case with a damp rag and allow it to dry.
Step 2
Draw the outline of your design using the white chalk pencil. If your case is a bumpy texture, you may also try a China Marker, which has wax in it.
Step 3
Fill in your outlines with a white primer paint and allow to dry. Lightly sand the prime coat and paint a second layer.
Step 4
Paint your picture directly on top of the white prime coat. If you make a mistake, allow the paint to dry and paint over it again. Let the design dry.
Step 5
Using a large brush, paint an acrylic topcoat over the entire guitar case for an even, glossy look, or just paint over your design to protect your work of art.