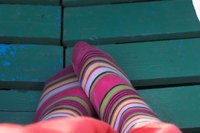 Fleece socks will keep your feet warm and cozy during chilly days and nights. These socks can be worn with shoes or in place of slippers. Fleece fabric is soft and easy to work with; it doesn't fray, so it doesn't need to be hemmed. You can make fleece socks for yourself or as a gift for men, women or children. Using a zigzag stitch allows you to make flat seams that won't be uncomfortable in shoes.
Things You'll Need
Pencil and paper
Scissors
1/2 yard fleece fabric
Straight pins
Sewing machine that will sew a zigzag stitch
Make a pattern for the sock foot by standing on a piece of paper and drawing around your foot, or drawing around the foot of the person for whom you are making the socks. Add 1 inch all the way around for your seam allowance. Cut out this pattern.
Pin the pattern to the fleece and cut out two sole pieces for each sock. Also cut two pieces 6 inches wide and 11 inches long. Round the bottom edge of each of the long pieces to match the heel of the sole pattern.
Cut the back 2 inches off one of the sole pieces and discard this excess. This will be the top of your sock. Round the edge you cut to match the rounded edge of the longer pieces of fleece.
Set the stitch selector on your sewing machine to a zigzag stitch that is 4 mm wide. Set the stitch length to eight stitches per inch.
Lay the sole of the sock on top of one of the long pieces of fleece, matching the curved edges. Pin. Sew from one side of the curve to the other. Then sew along the edge of the sock, using a zigzag stitch. Stop sewing on each side where the foot straightens out. Remove the pins.
Open the seamed sections and tug slightly at the seams. Instead of overlapping, the fabric should separate enough so that the edges of the fabric butt up against one another. The stitching will show, but it's supposed to. This makes a flat seam that won't irritate your foot.
Lay the top of the sock on the second long piece of fleece, matching the rounded edges. Pin in place. Again, sew the pieces together along the rounded edges. Remove the pins and open the seams and pull them slightly apart as you did with the first piece you sewed.
Lay the two halves of the sock together, right sides together. Pin. Starting at the top of the long sections, sew down the leg of the sock, around the foot and up the other leg. Backstitch at the top to secure your stitches.
Turn the sock right side out and stretch the seams to flatten.
Sew a second sock to match the first.