Things You'll Need
Denim overalls

Long-sleeved flannel shirt or T-shirt

Cowboy or work boots

Cowboy or straw fishing hat or bandanna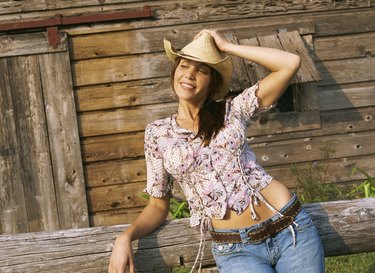 Dressing like a farm girl is a wonderful way to get into the character at a Halloween or costume party, or to lend a hand on a neighboring farm without looking like an outsider. Farm girls dress in durable clothing that is easy to wash and provides warmth during the early morning hours working on the farm. The 2003 Fox TV show "The Simple Life" starring Nicole Richie and Paris Hilton as city girls working on a farm provided comical inspiration for many females wanting to dress as a farm girl at costume parties and other events.
Step 1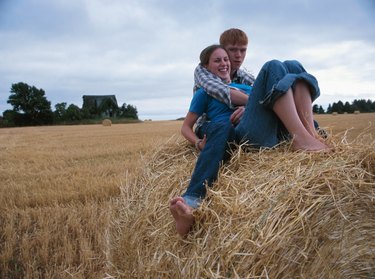 Wear a pair of denim overalls or ones that are made out of heavy, machine washable fabric, preferably in a dark shade that won't show stains.
Step 2
Choose T-shirts if you are dressing like a farm girl during the summer months. The lightweight fabric will keep you cool and allow your perspiration to evaporate.
Step 3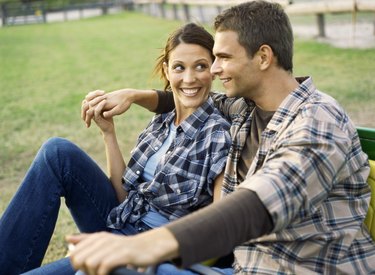 Select flannel or long-sleeve shirts if you are dressing like a farm girl during the winter months. Farm girls get up in the early morning hours to feed livestock and to begin their chores; it is often cool in the mornings during most of the year.
Step 4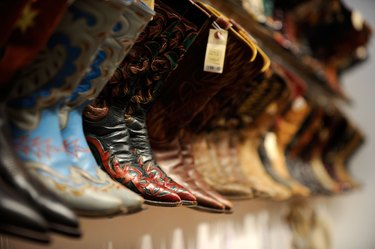 Choose low-heeled cowboy boots or heavy-duty work boots. The farm is not the place for delicate sandals or fashionable shoes. Farmyards are typically dusty, dirty or muddy.
Step 5
Wear a cowboy hat on your head, or put a bandanna on to protect your hair from soil, cobwebs and dirt. A wide-brim hat, such as a straw fishing hat or cowboy hat, will keep you from being sunburned while doing chores.
Step 6
Wear sturdy leather gloves to protect your hands from harsh chemicals, wire fences and wood splinters.