Things You'll Need
Round hat loom, larger gauge

2 skeins of chunky yarn

Loom hook

Yarn needle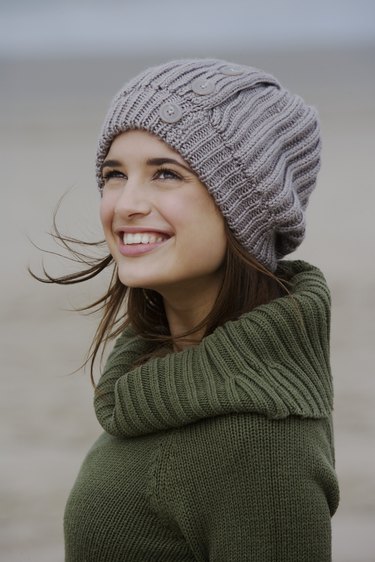 A slouchy beret can be knit using a round peg loom, which can be purchased at craft stores or through online merchants. It can be made using any number of pegs as long as the circumference is large enough to fit the head of the person for which you are making the hat. The beret is designed for a chunky weight wool, making it ideal for chilly weather. Some patterns are best suited for the knitter familiar with the basics of loom technique. Practice working the different stitches, such as e-wrap, knit and purl before beginning your slouchy beret.
Step 1
Cast 15 stitches onto the loom. For this pattern, the first stitch on every other row is skipped and not knitted. Knit across the first row.
Step 2
Slip one stitch then knit one stitch. Knit the next stitch, while simultaneously moving the new loop back a peg. Repeat across the row until you are two stitches from the end. Wind the yarn around the last two pegs, bringing the yarn from behind around. This is called an e-wrap stitch.
Step 3
Work back toward Peg 1, knitting the pegs that have two stitches on them. E-wrap the empty pegs.
Step 4
Repeat Steps 2 and 3 until you have seven pegs with two loops each.
Step 5
Slip one stitch and knit across. Repeat for the next row. This completes one of eight triangular sections. Repeat Steps 2 through 5 until you have all eight sections of your beret.
Step 6
Sew along the seams of each section of the hat using your yarn needle. Weave in any remaining ends of yarn. Hand wash the beret and shape it onto a flat surface. Allow it to dry completely before wearing.
Tip
Add buttons or a crocheted flower to the beret for decoration.