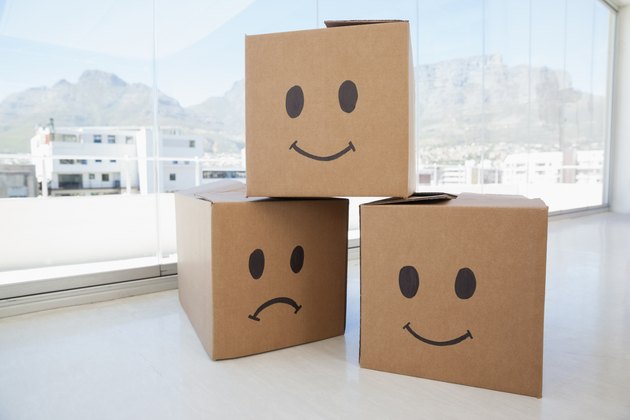 Instead of trying to pick your kids out from among the 20 identical superheroes and heroines wearing the latest store-bought costume sensations, whip up something far more interesting by recycling or repurposing materials you already have on hand. Making costumes yourself avoids the wasted expense of purchasing costumes for one specific event each year, taking up space in the closet for years afterward. A homemade costume also offers the opportunity for outfits far more creative and outlandish than the usual shop-rack fare, and it gives the kids a chance to help design and construct the attire.
Creepy or Cute Umbrella Creatures
Salvage that broken umbrella from the trash can and turn it into part of a costume instead. Remove the handle and central metal support structure from the umbrella using pliers or tin snips for a workable fabric fit for a bat or swamp creature. Cut the fabric part of an umbrella in half to create bat-style wings that attach to the arms and torso of an old long-sleeved T-shirt, hoodie or jacket. Stitch the umbrella material to the fabric, or use duct tape matching the umbrella color to keep it in place. The tiny metal ribs from the umbrella serve as the finger-like bones in the bat wings. For a swamp creature, use a green umbrella and attach panels of the umbrella fabric to the backs of gloves or the tops of shoes, ribs included, to create webbed hands and feet. Some of the umbrella metal and material will need to be cut down to child-sized proportions for hands and feet. Attach bits of shredded green umbrella fabric to old pants and shirt to emulate seaweed or moss.
Brown-Bagging It
Brown grocery bags morph into costumes simple or complex, depending upon how much time you'd like to put into the effort. Turn a paper grocery bag into a vest by cutting out the front panel, adding an armhole on each side near the bottom, and cutting a notch into the bottom to allow room for a child's neck. Flip the bag upside-down and cut notches along the current bottom edge to serve as fringe for a Western-style vest. Cut lunch bags into strips to create faux leather gauntlets or wristbands, stapling or taping them in place around his arms. Paint a bag vest with tempera or acrylic paints to turn it into a ladybug costume, a construction worker's bright vest or a turtle shell. For a more elaborate costume, cut pointy or curved pieces of brown bag and overlap them, layer after layer, to create feathers for a bird or scales for a fish, dragon or monster. A smaller bag or box can be cut and painted to match the creature costume for a mask to match the outfit.
Boxy Building
Sturdy cardboard boxes become costumes of all kinds with just a little tweaking. Add armholes to the sides and a head hole to the bottom for the basic building structure for a costume at its simplest. Cover the box in foil or silver paint for a robot costume, making buttons and knobs from plastic bottle caps and lids. Tape a string of battery-operated miniature LED lights inside, poking each light through a small hole in the cardboard to create a light-up display panel on the robot's chest. Turn a series of stacked boxes into a skyscraper costume, painting on the windows. Add a toy gorilla near the top for a playful homage to an old movie. Paint a narrow box costume to look like her favorite cereal box, book cover or even a tablet PC.
Chic Sheets
A plain sheet -- or pillowcase for a young trick-or-treater -- becomes a ghost costume when you cut out two eye holes for a simple last-minute upcycled costume. Wrap and secure a sheet around your costume-craving child toga-style for a costume that doesn't even require destroying the sheet; just make sure the sheet is pinned up high enough so he doesn't trip over it. Remind him to wear shorts underneath his toga. Add faux vine roping around his head for added effect. Add rope netting over a green or tan sheet with ghost-style cut-out eye holes for a forest or sea creature. Tie strips of green fabric, yarn or faux leaves to the netting to create the earthy features on the creature. A belt made of jute helps hold the sheet over the child.