Things You'll Need
Roll of butcher paper

Pencil

Ruler

Scissors

Yarn

Tape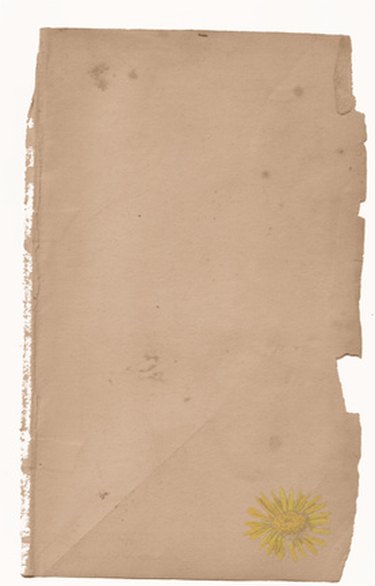 A paper apron is made completely out of paper. Used by chefs, butchers and craftsmen, it is an inexpensive option and a simple way to keep clothes clean. Paper aprons are a no-hassle item because they are simply thrown away at the end of their use. This means no cleaning, pressing or additional laundry. They are easy to make. So create several to have on hand.
Step 1
Pull three feet of butcher paper from the roll and set it on the table. You may also use sheets of wrapping paper if you don't have butcher paper.
Step 2
Make a basic apron shape with your pencil on the paper. Draw one large square that is 2 feet long and 3/4 the length of your waist size wide. Centered on the top edge of this square, draw a smaller square that is about 1 foot by 1 foot.
Step 3
Cut out the shape with the scissors.
Step 4
Make a hole in the top 2 corners of the large square section with the end of the scissors. Cut 3 lengths of yarn that are 2 feet long each. Thread one length through each hole and tie a knot in the end. Tape the yarn knots to the paper apron with regular tape. These will tie around your waist
Step 5
Make two holes on the top corners of the smaller square with the scissors. Thread the third piece of yarn through the holes and tie off each end with a square knot. Tape the yarn knots to the apron for added strength. This yarn will slip over your head.